We understand that sometimes you would like totally to be released from uneasiness of language barrier in this country, even though you have been happy to come to Japan. 
So today we introduce a cafe & restaurant with very international atmosphere in Aoyama, Tokyo. It means, at the restaurant you do never have to worry whether they have English menu, whether the staff understand English or whether the meal provided there would satisfy you.
Las Chicas is located a few hundred meters away from Aoyama's main street Route 246 or Aoyama Street. The restaurant is surrounded by green plants and the environment is incredibly peaceful in the middle of the most fashionable town of Tokyo. It is as if we came to a resort destination. When the weather is fine, you can also enjoy the peaceful time with breeze on the terrace. 
Entering into the modern cafe restaurant, you may find a few staff obviously who are not Japanese national. Yes they are happy to welcome you in perfect English. No Japanese language necessary here. Here we Japanese rather could worry whether the staff speak Japanese...
On the bilingual menu, you will find ones that are very familiar with you, burger, pizza, penne, club sandwiches, even Buffalo Wings, Fish & Chips etc. 
While waiting for your orders, enjoy looking at the big screen broadcasting English program or chatting with staff there. 
You must feel that you were in your home country. It is the atmosphere Las Chicas has created. 
The cafe restaurant opens from lunch time to late evening without a break.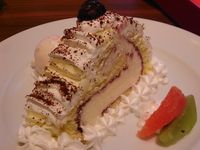 On afternoon, it must be a good place to have a break with a cup of coffee or tea. The sweets offered they are also in "non-Japanese" style. They are bigger and sweeter enough to satisfy your appetite 
Restaurant name: Las Chicas
Official website: http://www.vision.co.jp