As you know already, cooked white rice is principale food of Japanese. In traditional Japanese diet, rice and miso soup is a regular combination of Japanese meal whether it is for breakfast or dinner.
Also as you may know, Japanese rice is very sticky compared with other species of rice in other parts of the world and the taste of cooked rice is subtle and plain.
So in many cases, we put something on rice to have them together. Then, in Japan, we can find many kinds of food products that are assumed to be taken with cooked plain rice. For example, raw egg (we want to talk about it some days), "tsukemono" (漬物) pickles, "nori" (海苔, dried seaweed) and "kimchi" (キムチ, Korean hot pepper pickles) joined in our choices from around 10 years ago.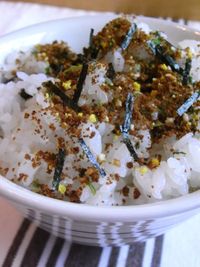 Furikake (ふりかけ) is one of the major line ups along with ones mentioned above. Furikake is a kind of mixed seasoning specially made for rice. There are hundreds (or more) of recepi for furikake in Japan but typical ones are likely to consist of dried fish or seafood such as salmon, cod roe (tarako), bonito, seaweed, egg, sesame. Typically they are all dried and cut into very small pieces like powder that makes us failed to imagine what are the ingredients. Furikake has good harmony of salty savory flavours as a whole and it makes the best match with hot plain rice.
Takaing many different kinds of food ingredients without having big volume is one of the qualifications of furikake. Because of that, it is also recommended to children from nutritional view point.
Furikake is often used also for box lunch. The easiness of preparing and variation of colors, such as yellow, brown or green pieces all together, help with changing your lunch box more pleasant in term of taste as well as looking. Rice mixed with furikake is also good for "onigiri" rice balls.
In addition, because furikake is dried and has long shelf-life, it will be one of good souvenir of Japanese food to bring back to your country. You will find selections of furikake at supermarkets and a few choices at convenience stores. 
Here we have two samples from a traditional Furikake producer, Tanaka Foods (田中食品) with over a century history in Hiroshima.
Ryoko no tomo (旅行の友, "a friend of journey")  
As mentioned, furikake is the best suit for lunch box and is easy to bring arund.
So the owner put such name on the rice seasoning,
also naming after her wife called "Tomo".
This package must be very attractive for some of you.
a small portion of furikake (one pack for a bowl of rice) in a small Hello Kitty bag
The pack has each different picture of Kitty.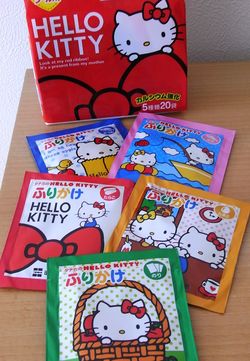 How fun it is if we bring one of them with lunch box,
even just for having lunc at a school class room...
Tanaka Foods official site: http://tanaka-foods.co.jp
Related post in the past: Tsukemono(漬物, Japanese pickles)
http://aboutfoodinjapan.weblogs.jp/blog/2008/11/tsukemono-japan.html