In modern days, "Hamburg" steak (ハンバーグ)  is one of the most popular menu for Japanese kids or even among adults. Not only as gourmet hamburger like we mentioned on a post last year, lunch set menu with Hamburg steak as main dish will be also worth trying in Japan.
Hamburg menu can be found for lunch at many casual restaurants in Japan, apart from ones offering pure traditional Japanese cuisine. In many cases, it is offered as a lunch set with either rice & miso soup or a piece of bread & Western style soup.
The restaurant, Oreno Hamburg Yamamoto (俺のハンバーグ 山本) , our recommendation, highly focuses on the popular menu, as it is taken for the restaurant name.
Before we start talking about the restaurant, the name in Japanese sounds quite unique. "Ore" "俺" is a word to indicate "me" but in very informal and masculine way. It means that we won't use the word in business communication and in front of someone we respect. And a woman never uses it. "Yamamoto" is the owner's familty name. Then from the restaurant's name, we sense unusual persistence in Hamburg by the restaurant's owner called Mr. Yamamoto.
The restaurant aims to energize people with its Hamburg menu that many have loved since young age. The restaurant offers several kinds of main dish on the menu but over 80% of them are "Hamburg" in different versions.
If you try the restaurant and Hamburg in Japan for the first time,
we recommend its flagship dish, again the name!, same with the restaurant name,
"ORENO HAMBURG".
Oreno Hamburg Yamamoto cooks demiglace sauce from its original recipe, using miso paste and Japanese soup stock as hidden taste. It intends to create a good match with cooked rice and miso soup, as we had the menu at home when we were young. But unlike (in many cases) the menu cooked at home by mother, hamburg steak is cooked in sauce for long time. So the minched steak is served with very tender and juicy condition and by thick earth pot which keeps the meal warm for longer time.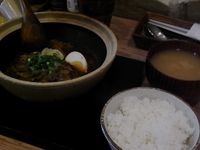 The restaurant owner makes sure the taste and quality of rice at the beginnig of new season every year and he selects the best suitable rice for the restaurant's main dish. Additional bowl of rice(okawari, お代わり) is complimentary.
With starter, green salad, Oreno Hamburg serves a glass of vegetable juice for diners' better health.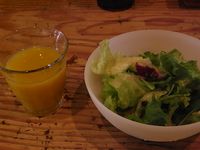 We hope you enjoy Hamburg steak in Japan, as many locals have done since their youth!!
Restaurant name: Oreno Hamburg Yamamoto (俺のハンバーグ山本)
Website: http://www.orehan.com
Location:
Main branch Ebisu
Address: 1st floor, 4-23-12 Ebisu, Shibuya-ku, Tokyo
View Larger Map
Shibuya branch
Address: 1st floor, 3-18-5 Shibuya, Shibuya-ku, Tokyo     
View Larger Map