Fried rice is called "Cha-han"(チャーハン) in Japanese. Obviosly it is one of the most popular Chinese food in Japan and Japanese people are quite familar with the rice plate.
We found the best place to have Cha-han(fried rice) in Japan. The restaurant name shows the fact. 
Cha-han Ou (チャーハン王) represents "King of fried rice." 
The casual small restaurant is located on the basement floor of New Shimbashi Building which is in front of JR Shimbashi station next to SL Plaza.
A day during a weekend, many restaurants and shops on the floor were close because Shimbashi is a town for Japanese businessmen who work only on weekdays in the area. Even though the sign is only in Japanese, it won't be difficult to find the restaurant.
The restaurant is almost full around lunch time and offers only Cha-han. 
Several people could wait in front of the restaurant for the best cha-han.
Cha-han Ou make the best effort to provide the best Cha-han in various aspects to cook the plate. For example, high quality Japanese beef is used for seasoning and taking for 3days to prepare 10 kinds of vegetable ingredients in order to make the most use of the natural taste etc.
Of course the rice is not too sticky and it is exactly like the one we can find at luxury Chinese restaurant.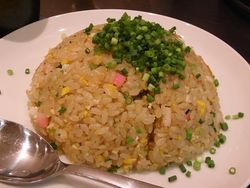 Cha-han is served with a cup of chicken stock soup which is also cooked with high quality chicken as well as 3 kinds of selected salt, taking for 2days.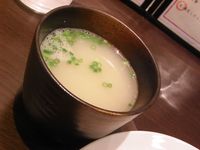 On the menu, we found suggestions to enjoy the cha-han and soup the most.
1. Have a ship of the soup
2. Have cha-han
3. Have cha-han and soup together 
    *To keep this way for a half is recommendable.

4. Add  a spoon of speial sauce (vinaigrette soy sauce on the table)
    * Be careful not to add too much!
    * For those who like hot food, Ra-yu(Chinese chili oil) can be added as well.
5. Have cha-han mixed with the sauce
Finish!
Hope you are satisfied with a place by the kind of Fried rice.
Eventhough it is out of authentic Japanese food, the plate is worth trying once in Tokyo.
Chahan Ou opens from lunch time to early dinner time for weekdays and only on lunch time for weekend.
Restaurant name: Cha-han Ou (チャーハン王)
Address: B1 floor, New Shimbashi building, 2-16-1 Shimbashi, Minato-ku, Tokyo
Official website in Japanese : http://www.cya-ou.jp/
View Larger Map