First of all, we would like to highlight the update about the city's symbol Kumamoto Castel which got hugely damaged by the two large-scale earthquakes in 2016.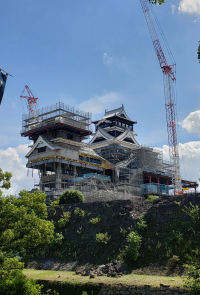 The city has made great effort to preserve and reconstruct the castle back to the original. So far, the castle being under reconstruction work can be visible only from mound surrounding it. However, from 05 Oct 2019, special access route to the castle's main building will be opened to the public for limited day and time so we can look at the castle's main building more closely. (Basically it will be open Sunday and National holidays from 05 Oct, plus afternoon between 05-12Oct, during the period when the games of Rugby World Cup are taken place in the city.)
Don't miss the special welcome from the city!

Kumamoto in the west Kushu has some unique food culture. Their local speciality includes horse meat and lotus root dipped in mustard. Another recommendable dish is "Taipien" (太平燕) local noodle. The bean starch noodle with a lot of vegetables is relatively healthy, compared with regular ramen bowl. It can be found mainly at Chinese or local restaurants in the city.
*** This post was reproduced from our official Facebook account post made on 25 January 2019. ***