Toyota city – the name reminds you of the global motor company?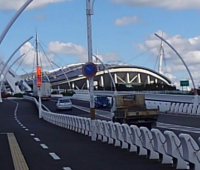 Yes, it is where the headquarters of Toyota Motor Corporation is located.
The stadium with over 40,000 seats was also used for major football matches, 2002 World Cup and FIFA Club World Cup in the past.
Some choices of bars are available on the way from the station to the stadium though. We found a lovely café in Matsuzakaya Department store when we visited the city.

The chopstick cover origami was a big surprise!
Their Instagram account also shows what they offer well.
https://www.instagram.com/machicafe_toyota/
****** UPDATE 06Sep 2019 ****
Above cafe in Matsuzakaya (Machi cafe) was unfortunately closed on the end of April 2019.
Another cafe by the same operator is in neighbor area.
It will be 20 minutes taxi ride from Toyota-shi train station.
Yama Cafe
Address: 846-39 Hirohata, Yanami-cho, Toyota city, Aichi
http://www.yama-machicafe.jp/yamacafe.html
************************************
Rugby World Cup 2019 official site
Match schedule: https://www.rugbyworldcup.com/match-schedule
Official Ticket purchase guide and tour information : https://www.rugbyworldcup.com/buy-official
*** This post was reproduced from our official Facebook account post made on 09 January 2019. ***