For those who consider travel to Tokyo in this summer holiday season, About Food in Japan recommends following two exhibitions to visit.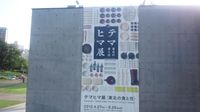 1. TEMA HIMA: the Art of Living in Tohoku
At: 21_21 DESIGN SIGHT, Tokyo Midtown, Roppongi
Date until: 26 August 2012
Official site: http://www.2121designsight.jp/en/program/temahima/
Following the first exhibition program with the theme "Clothing (衣)" last year and produced by the world-renowned fasion designer Issey Miyake, this year the second version focuses on "food and living spaces." The exhibition intoroduces rich life-culture and tradition of Tohoku region through a movie, photos and displays of products, ingredients, parts etc. They are brought to the gallery space in Rippongi through the eyes of designers, food director, journarist, film artists and photographer. The exhibition is not simply a showcase of the Japanese traditional culture and life-style but can be considered as an art program extracting aesthetic of daily life inherited in Tohoku region.
At the entrance, make sure to get a leaflet in English, explaining each of 55 works presented. It's amazing even for Japanese like us to know how many kinds of traditional food culture remain in Tohoku region. You will find how traditional Japanese food are prepared with hands of local people. Take around 2hours for visit in order to watch the whole of program fully including the film.   
2. GOSSE DE PEINTRE BEAT TAKESHI KITANO
At: Tokyo Opera City Art Gallery, Shinjuku
Date until: 2 September 2012
Official site: http://www.btk2012.jp/
The exhibition was originally presented in Paris by "Fondation Cartier pour l'art contemporain" to introduce art works by Takeshi Kitano who is mostly known as comedian in Japan while is recognized rather as film director in other parts of the world. As Mr. Kitano described himself, taste of his painting has underlying influence by his father who had been a house painter. While showing his another aspecct as the most popular comedian in Japan, he also demonstrates his art talent that could be even close to Pablo Picasso or Leonardo da Vinci. At least looking at his works, we will see his versatility from comedian, film director, actor as already known to painter, very unique art producer.
Yes, this blog is about food in Japan. The exhibition seems not to be related to food so much. Actually he produced a food stall and products for it as one of the exhibition works. It is at the last of the exhibition work list, No. 83 "The Keep-Hunger-Away-Buddha." It's a kind of joke (I guess at least) which he often shows on TV programs. On the underground floor of Tokyo Opera City, where the art gallery is situated, a small stall stands facing to the central courtyard. The stall is visible from the gallery window.
Please don't miss to find it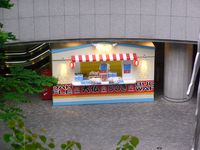 Then what are sold there...
cakes in shape of buddha
It's up to you how much you believe
the story Mr. Kitano telling for the cake.
In any case, enjoy your summer holiday in Tokyo