Japanese beef is especially appreciated not only by local people but also by international travelers for the quality, taste and tenderness. We are sure that some of you plan to have good quality Japanese beef while you stay in Japan.
So here we introduce one of the best options to taste Japanese beef and also pork meat in Tokyo.
Yakiniku (焼き肉, grilled meat) or BBQ restaurant "Pure" (written in Japanese Hiragana as ぴゅあ) is operated by a professional meat distributor under the group of "JA" Japan Agricultural corporative association. At its 4 units in central Tokyo such as Shinagawa or Shimbashi, it offers high quality meat with traceability information at reasonable prices, making the most use of its network with livestock producers across Japan.
Of course, because of their meat dealer business in charge, the company knows the best ways to have Japanese beef and pork. They are the reasons we recommend BBQ restaurant Pure as a place to enjoy Japanese meat.
We visited Pure Shinagawa branch which is 5 minutes walk from JR Shinagawa station. The restaurant is situated on the second floor of modern Shinagawa Front Building.
Find it with the mark of "JA" at the entrance.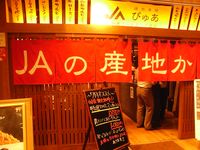 BBQ grill with smoke control system is equipped on each table.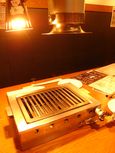 That allows you to prepare meat at your favourite condition and at your own pace.

Will be nice to keep watching your meat cooked in front of you with yummy sound and aroma.
On each table, BBQ sauce, which is prepared with original recipe by each restaurant unit, and lemon juice are provided as dipping sauce for meat. If you are not sure which is good for a specific kind of meat, the restaurant staff will be happy to give you the best advices.
The restaurant offers a few types of assortment dishs
 with selected popular and recommendable meat. 
Although it has not been recognized widely yet out of Japan, Japanese pork meat is also recommendable to try in Japan.
Or If you are very curious about Japanese meat and wish to try something unique, why not try the assortment of "horumon(ホルモン, offal meat)".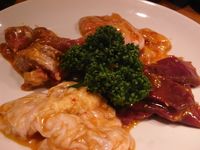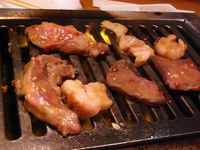 The assortment plates includes beef heart, tripe and gut meat. 
The unique parts of meat is chewy and no strong smell, because of selected high quality ingredient by the professional distributor.
After have enjoyed a great amount of nice Japanese beef and pork cooked on a grill, the restaurant offers other ways to enjoy these meat products.
Reimen (冷麺, cold noodle) and Gukbap(クッパ, soup with rice) in Korean BBQ style.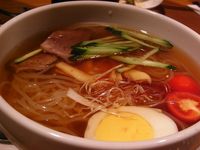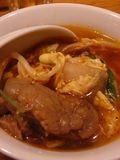 With both menu, we can also taste beef in soup with noodle or rice.
The restaurant group opened its unit in Hong Kong in early 2013. If you are based in the city or have a chance to travel there, try some good quality meat imported by JA group without traveling to Tokyo.
Restaurant name: Yakiniku Pure
Shinagawa branch
Address: 2nd floor, Shinagawa Front Building, 2-3-13 Konan, Minato-ku, Tokyo
English homepage: http://r.gnavi.co.jp/g262202/lang/en/
View Larger Map
Shimbashi branch
Address: B1 floor, Yokoyama building, 3-16-12 Shimbashi, Minato-ku, Tokyo
English homepage: http://r.gnavi.co.jp/g262200/lang/en/
View Larger Map
Otemachi branch
Address: B1 floor, South Tower 1-9-7 Otemachi, Chiyoda-ku, Tokyo
English homepage: http://r.gnavi.co.jp/g262203/lang/en/
View Larger Map
Hong Kong branch
Address: 15F Henry House, 42 Yun Ping Road Causeway Bay, Hong Kong
Openrice page: http://www.openrice.com/restaurant/sr2.htm?shopid=125244&region=0&s=3
View Larger Map