We introduce top 3 Nagoya-meshi(local speciality dishes of Nagoya).


1. Miso-Katsu – Some of you may know "Tonkatsu"(pork cutlet). Miso-katsu is a regional variation of Tonkatsu. Bitter sweet brown sauce made from miso paste is over pork cutlet.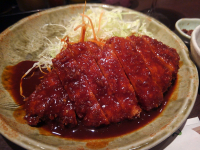 2. Hitsumabushi – Grilled eel on top of rice is common across Japan. The Nagoya style set is served with a few condiments and a pot of hot water or green tea. The traditional way to enjoy the dish is first round, simply have just eel and rice, the second round mix them with served condiments such as wasabi, shredded leek and seaweed. As the third round, pour (as served, included in the set) green tea or stock soup or hot water on eel, rice and condiments in the rice bowl and take them. Be ready to have three bowls of rice with grilled eel!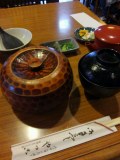 Even though you have never had eel, try the premium seafood in Japan. It is never fishy, no strong flavour at all. Japanese choose the menu as festive meal or to gain more energy.

3. Tebasaki – means "chicken wings". No further explanation is required for the simple menu. Crispy and spicy chicken wing well matches with beer. You will easily find them at Izakaya, local style dining bars and take-away stands in the region.