Here we introduce a new shopping spot in Shinjuku, NewoMan by LUMINE.
The shopping complex opened late March 2016 just above JR Shinjuku station(south side).
The building includes also a large bus terminal and Tokyo tourist information center in addition to the shopping floors.
How to access to the bus terminal, please check ULR below.
https://www.highwaybus.com/html/gp/foreign/en/access/
Well as for food related information, especially the collection of food boutique INSIDE JR Shinjuku station is wonderful.
From JR train platforms, please follow the sign of "New South Exit" or "NEWoMan", remain inside the ticket gate(Eki-Naka area).
In the commercial area, from bakerly, onigiri(rice ball), fried food to both Japanese and Western sweets are available with excellent choices.
Our recommendations as they are rarely found in other locations are ...
Wa's sandwich  - providing volumy sanwiches with some Japanese flavor and ingredients

https://www.newoman.jp/shop/shop_details.php?id=86
Sushi-ya no Hanare - food courner by a sushi restaurant offering, for example, onigiri(rice ball) with uni (sea urchin) and rarely-found original recipe rice products.
Liquor Select 360 degree - even though the area is very small, the selection variation is vast.
The beer and sake collection covers across Japan.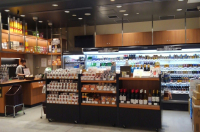 It will be good to choose one as your night cap before going back to your accommodation.
M.LE BIHAN - French style bakerly
If you miss European(more exactly French) style breads, while traveling in Japan.
For more information about the French bakerly, Japanese site  http://www.lebihan.jp/
The excellent quality of breads will satisfy you. Some Japanese original kind of bread is also available as below photo.
More and more food boutiques are available, so take enough time to explorer light meal and/or sweets!
Again, don't forget that they are INSIDE station ticket gate (Eki-Naka).
NeWoMan shopping complex floor plan is here.