Beppu, One of the most popular hot spring resorts in Japan, Beppu, is around 10 minutes journey from central Oita city. It will be a must-visit town in the region and can be a good option to stay as well.
In the city, the power of natural hot spring is demonstrated in each different but all interesting ways. Some hot spring have colored such as blue or red by natural mineral components and the temperature is too hot for human to take a bath.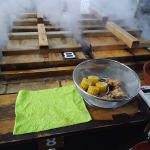 We found an interesting food spot in Kannawa traditional hot spring town area, "Jigoku-mushi Kobo"(Steaming-hell studio) run by the city. We can cook food with natural hot steam at the studio with help of their staff. Food and drink are available for purchase there or we can bring some food from outside with supplement charge as long as they are fit for the cooking way.
The video shows the spot well. https://youtu.be/a_9eTUTMTKU
Of course, across Beppu city, many hot spring bath options are available as public bath at reasonable fee or in accommodations.

Tips: To take hot spring bath, if you have a tattoo, make sure if the facility allows it or not in public baths. Some of them have no tattoo policy and others do allow or have a private bath as an alternative option.
*** This post was reproduced from our official Facebook account post made on 22 January 2019. ***