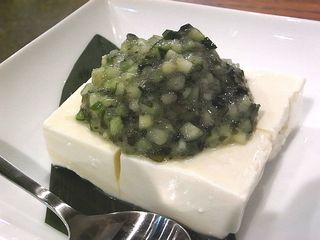 Fukumori is a cafe restaurant located in Bakuro-cho, East part of Tokyo. The area is known for the textile industry office and storehouses where it is quiet with less people after office hour. However when we visited the unit on the weekday evening, all tables were occupied and the atmosphere was vital. The inside of the cafe cannot be imagined from the silence of outside.
What cannot be missed to mention about Fukumori is that the cafe is produced by three ryokan (Japanese traditional style accommodation) in Yamagata prefecture, North East region of Japan. It works not only as a cozy cafe for people working in the area but also as a showcase of local specialties from Yamagata. The menu list amazed us with the wide variety of fine ingredients harvested in the region; vegetables, rice, fruits, eggs, pork and beef, fish and sake... It was hard to choose which one we should try.
For example... the fast starter, above photo is tofu with "dashi"(local specialty, diced cucumber, eggplant and a few kinds of Japanese herb leaf, seasoned with soy sauce). The fresh green color stimulates our appetite even in hot summer.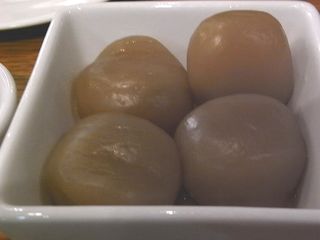 Konnyaku balls(dumplings made from Japanese potato)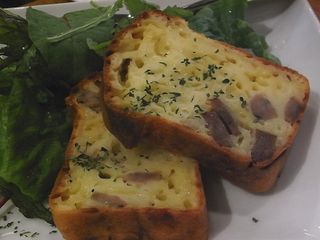 Cake sale (French words meaning "salty cake") baked with pieces of sausages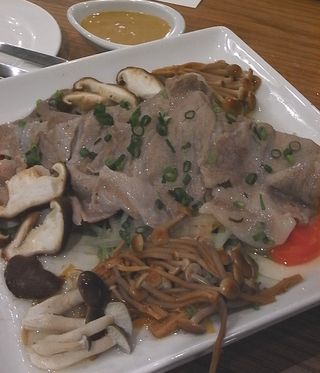 Steamed "Sangenton" pork with mushrooms
*Sangenton - a brand name of Pork
The sesame sauce is also tasty.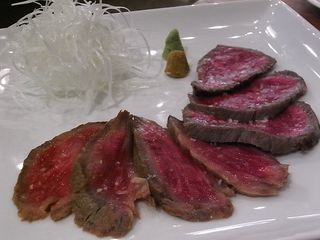 Yamagata beef tataki with Japanese mustard and wasabi
Simple but it is possible only with high quality fresh meat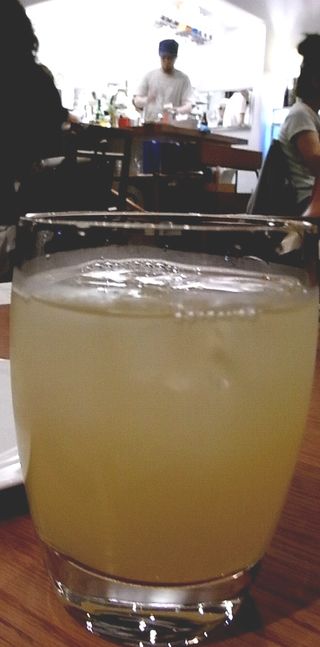 Liquor made from the most famous specialty of Yamagata, apple
Even after those plates, there are a lot of dishes we missed. Next time surely we will have to do hard decision, because we liked all plates we ordered tonight and would like to try them again...
At the end of the unforgettable dishes, we knew where the restaurant name came from. Fuku (福) is luck and mori (盛) is heap. A heap of luck (福盛)...the name tells the truth, I believe.
Restaurant name: Fukumori (フクモリ)
Address: 1-2-10 Higashi-Kanda, Chiyoda-ku, Tokyo
Website (Japanese only): http://fuku-mori.jp/
大きな地図で見る