Among several restaurants in Japan by the great master of French cuisine, Chateau Restaurant Joel Robuchon in Ebisu, Tokyo is the best place to enjoy luxurious atmosphere as well as the best French dishes. The Chateau stands on the commercial and cultural site, Ebisu Garden Place. Inside of the Chateau the French cuisine master provides gourmet entertainment in different style by floor by floors, from the basement for "La Boutique" to 3rd floor as a private dining "Salon."
LA TABLE de Joel Robuchon is where we are able to taste his modern French plates at reasonable cost in casual style (relatively...). One day I had special course for a party with several friends.
The menu are not same with what you will find on the list at the restaurant. Still show you the excellence and imagination of the plates.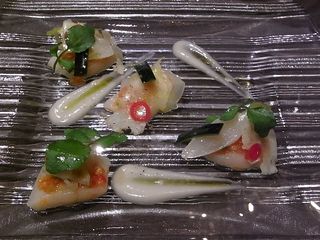 Starter - Scallop marinee with vegetables
The yellow in the sauce is curry oil which stimulate our appetite at the beginning.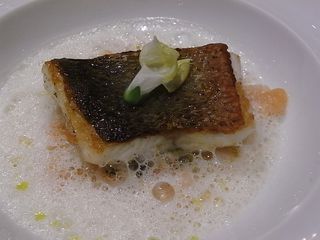 Perch grilled in spumed sauce of Iberia ham.
Can't imagine to make such a flavored cappuccino style cream as sauce for fish...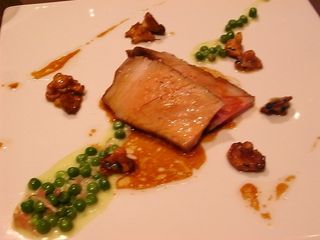 Roasted pork with girolle mushrooms
The rich taste is unforgettable...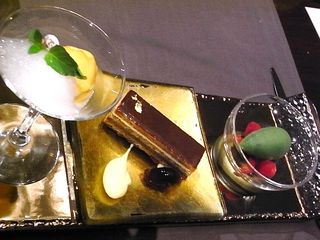 We would never be disappointed by the dessert plates....
With the wall in purple color, luminous chandeliers and attentive staff, even the casual version is surely enough enjoyable as a Michelin star restaurant.
Restaurant name: LA TABLE de Joel Robuchon
Address: Ebisu Garden Place, 1-13-1 Mita, Meguro-ku, Tokyo
Website: http://www.robuchon.jp/