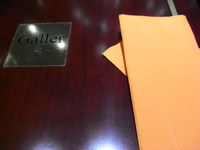 It is not easy to find a cozy table for a cup of tea or coffee in Ginza without making a que on weekend afternoon. Galler CHOCOLATE - THE is my favourite place in Ginza to forget the bustle of the shopping and entertaining town.
The cafe-restaurant by the established Belgian chocolate house, Galler, is located on the second floor of Seibu department store, just a hundred meter away from busy Yurakucho station.
What should not be missed iteam is of course sweets with Galler chocolate.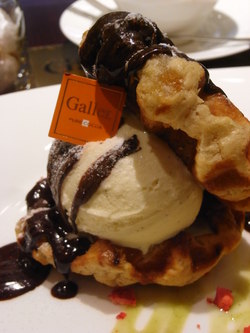 A great pair of Belgian speciality - chocolate and waffles is a recommendable menu.
Chocolate and sweets are not a single feature of the cafe. Flower decoration and piano playing music at the cafe are also by Belgian famouse professionals.
While taking a rest from hassle of shopping in Ginza, enjoy Belgian specialities at the cozy tea room.
Cafe name: Galler CHOCOLATE - THE
Address: Yurakucho Seibu Department store Fasion-kan (pavillion) 2nd floor, 2-5-1 Yurakucho, Chiyoda-ku, Tokyo
Website: Galler Japan (Japanese)
http://www.galler.co.jp