Hamberg and steak...it is not really considered as Japanese food. The menu is still quite familier for Japanese nationals and what is provided at the restaurant Meat Yazawa is surely Japanese food.
Beef cattle raised in Japan is called "wagyu(和牛, Japanese beef)" and among Japanese it is considered as the highest quality of beef. At restaurants or supermarkets, if you have choices in origin of beef, you will find that the Japanese beef is the most expensive. Even among wagyu, it is also categorized by quality and the price differs by the quality. Needless to say, famous brand beef such as Kobe, Matsuzaka is the highest quality among wagyu brands but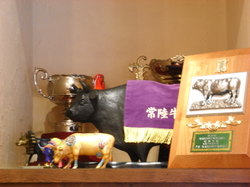 Japanese beef even from other parts of Japan is still expensive compared with imported ones for example from Austraila and United States.
Meat Yazawa is originally a meat packing wholeseller and it runs a restaurant on the Meguro riverside in Gotanda. The restaurant is proud of serving only the highest quality (A5) beef there. However the price is surprisingly inexpensive and that attracts a lot of people enough to make a que line in front of the restaurant.
At a corner of the restaurant, trophies and plaques, as the proof of high quality beef breeded, are displayed.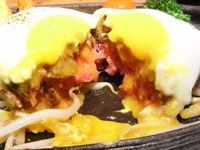 According to the information at the restaurant, they recommend medium-rare cooked hamberg, because it is the best way to taste the high-grade meat.
With the egg york, it was an unforgettable plate...
Restaurant name: Meat Yazawa
Address: 2-15-13 Nishi-Gotanda, Shinagwa-ku, Tokyo
Website: http://www.kuroge-wagyu.com/my/