My report from West part of Japan continues here.

I believe that Osaka is a place where we can have nice and fresh food, especially in casual style, at reasonable cost compared with ones in Tokyo.
Ganko (meaning "stubborn") sushi is one of the examples. The major restaurant chain in Kansai region including Osaka and Kyoto is well-known for its icon, trade mark of the Sushi chef face with the lips in a straight line. Its first sushi restaurant was born in Osaka almost a half century ago. Its main business is the Sushi restaurant, casual but not Kaiten(rolling-around) style.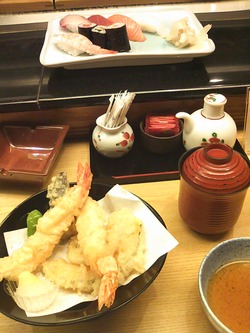 I visited a unit in Namba central area on the side of a major shopping archade and found a very long Sushi counter where fresh seafood ingredients and several Sushi cook masters were stand-by.
The lunch set includes a plate of Sushi (above but they are not all of them) plus another plate of tempura. The price is reasonable considering the quality of food and the volume provided. It is something difficult to find in Tokyo.
I would like to come to Osaka again to enjoy food...
Restaurant name: Ganko sushi Namba Honten
Address: 3-1-15 Namba, Chuo-ku, Osaka City, Osaka
Website: http://www.gankofood.co.jp