I had a chance to re-visit Michelin 1 star Chinese restaurant Momonoki (桃の木)in Mita, Minato-ku. Again on its lunch time, tables were filled with groups of Japanese ladies or couples.
On this second time visit, I wanted to try what I could not last time and seasonal dishes which are available only this time.
One of startesr from its specialities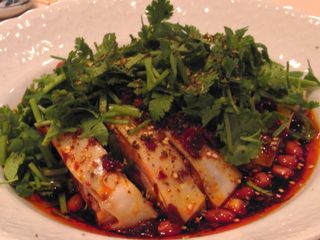 "Mouth-watering" steamed chicken with mapo souce – the hot spicy sauce matches with a glass of beer or other alcohol drinks.
Seasonal plate

Shanghai crab and radish cakes hot-sweet stew – The crabs look like as they were alive in the pot…Try to dig the meat out with fingers. That is another fun.
Here all dishes are fresh, healthy and home-made like that make us relax .and comfortable This is unlike other Michelin star restaurants. It fits even for casual gathering as long as a table is booked in advance.

I would like to visit again and to try what I have not done yet. 
Related story: Chinese - Momonoki (My first time visit on August 2008)
http://aboutfoodinjapan.weblogs.jp/blog/2008/08/chinese---momon.html
Restaurant name: Momonoki
Address: Aurora Mita 105, 2-17-29 Mita, Minato-ku, Tokyo