Meal cost at Ginza is considered expensive. I found an exception here.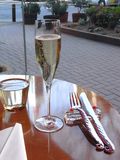 The cafe lunch shows high cost performance.
The Michelin star restaurant Le 6eme sens by an experienced French chef Dominique Corby offers a reasonable alternative for lunch time at Ginza. The restaurant is located in the west part of Ginza, on a gourmet street called コリドー街(korido gai) along with Yamanote line railway and Tokyo Metropolitan Expressway(首都高速). The cafe-bar space with large glass window can be easily found from the street.
Weekend lunch price starts from Yen1500 for starter, main dish and dessert.
It costs only Yen2000, even with a glass of wine. The menu changes day by day maybe and provides no selection list for each plate. But still it is quite reasonable considering the quality of food come from the Michelin awarded kitchen.
Here the menu I had,
Starter - salty cake with vegetable, Main - chicken breast, Dessert - caramel nuts cake with vanilla ice cream along with a cup of coffee.