Japanese have great parties with tons of traditional food plates, box during new year holiday. Days after the joyful moment, ladies start thinking a change and loosing their weight as soon as possible...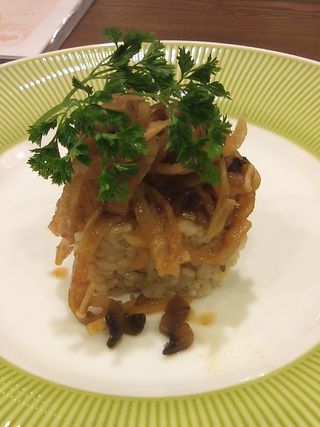 Macrobiotic cafe might be a choice to help such ladies being back to a good shape.
"Macrobi cafe" in Shinjuku offers small portions of food, called "Suhi cake", made by genmai (brown rice 玄米) but look like a piece of cake. Plenty of choices such as mix of vegetables, pork cutlet, traditional Japanese ingredients are given for topping on genmai cake. Wether it is lunch time or tea time, the small piece in colors with sweet taste will give you delight of eating and of filling stomach. 
Restaurant name: Macrobi cafe
Address: 3rd floor In the Room Shinjuku, 3-1-26 Shinjuku-ku, Shinjuku, Tokyo
*It is announced that the interior shopping complex "In the Room"(the cafe location) will be close at the end of February 2010. I am not sure how the cafe will go or not. At least I am sure that similar type of cafe will appear in somewhere Tokyo again soon.