The Michelin-two-star restaurant is located in Nishonbashi, Tokyo. In spite of the real central location with hundreds of history and traditions, known as financial district at the same time, during weekend, it is rather quite area.
Restaurant Sant Pau is situated in a shopping complex Coredo-Annex. The dinning room is on the second floor after going up from the spacious bar lounge with a wine storage room and through a staircase with leather handrail. Leather and wood furniture and original paintings arts on the wall create warm and cozy atmosphere in the luxury restaurant, even during this chilly Winter in Tokyo. 
Restaurant Sant Pau, leads by the chef Ms. Carme Ruscalleda, has its flagship restaurant in Barcelona, Spain and keeps Michelin star since 1990, serving mixture of local food in Catalonia and modern cuisine. The restaurant in Tokyo inherits the concept and cooking style from the orginal one. 
Dinners are welcomed with its iconic "Micro menu", 4 kinds of very small starters. 
Every plate entertains its guests not only by taste but also by visual presentation.
The combination of ingredients is unique and sometime big surprise for us.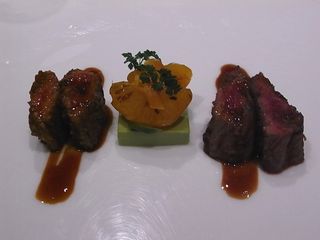 Pluma Iberica pork served with mandarin confit & pistachio mousse
We could not stop ordering its cheese set called "contrasts". Five different types of cheese from different countries are offered with suggestions of food paired with pieces of cheese.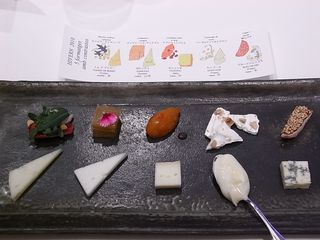 A small card telling the contrasts pairs through illustration by the chef Ms. Carme Ruscalleda.
This is definitely a good souvenir of the excellent dining experience.
The-beyond-expectation experiences did not stop till the end of the lunch time.
The last plate was this colorful and joyful one with coffee.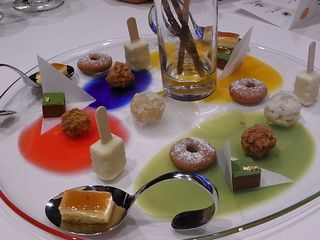 Surely it is worth spending some amount of money and time for the Michelin 2-star Spanish restaurant.
Restaurant name: Restaurant Sant Pau
Address: Coredo-Nihonbashi Annex, 1-6-1 Nihonbashi, Chuo-ku, Toky
Website: http://www.santpau.jp