Delicatessen is a part of a luxury hotel, Park Hyatt Tokyo known for scenes in the American film "Lost in translation." Some people might hesitate to step into one of the best hotels in Tokyo. The hotel main part is on the 39th or above floors, while Delicatessen is situated far low on the ground floor. It is easily accessible from public space of the building even without going through the hotel's main entrance. The cafe is not a place where we have to mind casual appearance so much. We are rather able to visit it more freely as ordinary casual cafes in town.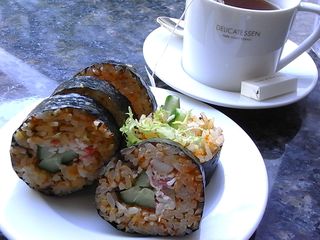 At Delicatessen, fine international deli food are available with high quality beverage menu. Not only pasta, pate, sandwiches, salad, Japanese sushi rolls also can be found.  (Photo: Sushi roll with cucumber and fish eggs) Peaceful time will be guaranteed for a break or lunch in the middle of Shinjuku, at the foot of skyscrapers.
Selected grocery foods from the world fill all dimensions walls of Delicatessen. After taking a rest with a cup of fresh aroma cappuccino, let's shop around the space!
Cafe name: Delicatessen
Address: 1st floor Park Hyatt Tokyo, 3-7-1-2 Nishi Shinjuku, Shinjuku-Ku, Tokyo
Boutique's direct link : http://tokyo.park.hyatt.com/hyatt/hotels/services/shops/index.jsp

大きな地図で見る