It is still in rainy season in Tokyo and the summer is almost coming here. The temperature is around 30C degree everyday and it is unavoidable to get sweat outside during day. When the hot and humid summer comes with tons of sweat, we feel more times like having hot and spicy food to have more sweat
...I do not know why though. Curry rice (カレーライス) is one of the typical dishes in such a situation. 
Curry-rice is originally from India of course but the Japanese version is a bit different. The curry sauce in Japan is less spicy and could be sweeter than the original one. It is always served with Japanese rice. Surely it is one of the most favorite dishes among kids, young boys and gentlemen. They are likely to request the dish whether it is for lunch or dinner and never mind even if he had same menu a day before.
Curry restaurant Bondy in Jinbocho (神保町) is known as one of the best curry shops in Tokyo. The chef got the idea of his own curry recipe from French cuisine, as he called it European style carry. As ingredient, daily product, apple, onion and other vegetables, red wine, butter, pepper are included. It cooked for hours and becomes fine curry sauce, sweet but spicy. Cheese on top of rice also cannot be found at any other curry restaurant in Japan.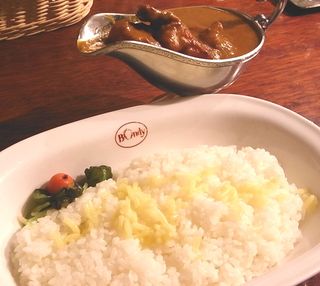 Side dish baked potato is also the unique point of Bondy.
Jimbocho is a town of second-hand book stores and is not far from Akihabara, where boys and gentlemen are walking around for shopping. It is may be natural that we are able to find curry rice restaurants more often in Jimbocho than in other towns. Among these restaurant, Bondy is one of the most popular and for which people are likely to make a queue. 
Several choices of main ingredient; beef, pork, chicken, sea food, vegetable are available at each same price. It might be a bit expensive for a plate of curry rice during lunch time. However it worth trying the carefully prepared one. The quality rarely can be found and is obviously much better than same menu at ordinary restaurants or cafeteria.
Restaurant name: Bondy
Address: 2nd floor Kanda Kosho center building, 2-3 Kanda-Jinbocho, Chiyoda-ku, Tokyo
Website: (Japanese only): http://www.bondy.co.jp
大きな地図で見る