I got a souvenir (お土産) sweets from Kobe.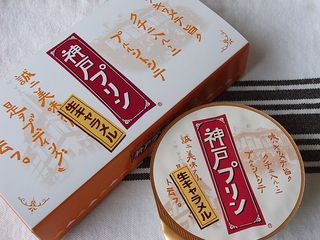 Kobe is very well known for "Kobe beef". Apart from it, it is not easy to come up with any other food specialty for Kobe. Kobe pudding could be the second popular food in Kobe. The history Kobe Pudding is not so long, almost 20 years ago. However the image of confectionery is a good match with Kobe town where we find Western style housing heritage.
Anyway, let's try the taste...
A bit different from a typical one. It is flavored with citrus liquor syrup and not too sweet.
That is recommendable for adults rather than for kids.
The seal-up package can be stored at room temperature.
Kobe pudding is available at souvenir shops in town, stations or airport or at department stores in Kobe.
神戸プリン(小)
神戸プリンチョコ 4個入り
****************** Find accommodation in Japan ***************
OSAKA / NARA / SAPPORO / TAKAYAMA / TOKYO/YUFUIN
YAKUSHIMA / NOZAWA ONSEN / NISEKO / NIKKO /

HIROSHIMA / MATSUMOTO / KYOTO / KANAZAWA / ISHIGAKI ISLAND /