Ginza is known for luxury brand boutiques and major department stores. Restaurants in Ginza, needless to say, are likely to be upscale ones to attact such high-end consumers. Especially for dinner, many restaruants charge around Yen 10000 or more in Ginza. It is known among local people that these restaurants are place for celebrities, important politicians or corporate executives.

On the other hand, you could have a chance to enjoy such upscale dinings at much more reasonable cost for lunch but of course at similar service and quality standard. Why not try one of them for having lunch and taking a break during a shopping time at the most luxurious town in Japan.
Okahan (岡半) is one suitable for such a situation. The teppanyaki grill and Suikiyaki restaurant is operated by a luxury Japanese restaurant house, Kanetanaka (金田中). To have Teppanyaki or Sukiyaki with Matsuzaka beef for dinner at the restaurant in Ginza, it costs more than Yen 15000, while the same restaurant offers lunch set at minimum Yen1500, a tithe of the dinner price.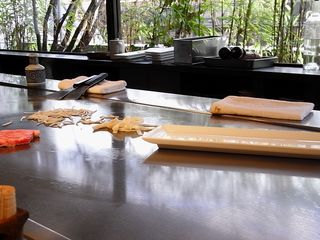 Even though meat is not  exactly the same quaity one from Matsuzaka, of course at least the quality is still high enought to keep the luxury restaurant's fame. And it is prepared by the cooks in front of us, if seated at the counter.
The lunch steak plate is served with salad, a rice bowl, miso soup (in tea cup!) and a small vegetable pot.
The small pot is an unique service of Okahan. A small "meat ball" is cooked with onions, potato and carrott. It is almost like beef stew. This garnish could be a reason to distinguish Okahan from other teppanyaki restaurants.
  Daytime for lunch, unlike its dinner time, we can enjoy the high quality Japanese beef at much more reasonable cost and in casual atomosphere.
Restaurant name: Okahan (岡半)
Address: 7th floor, Ginza Kanetanaka building, 7-6-16 Ginza, Chuo-ku, Tokyo
Information in English (Gournavi) : http://r.gnavi.co.jp/fl/en/g080500/