Asakusa (浅草) is one of major tourism spots in Tokyo for the icon temple Senso-ji (浅草寺) and Kaminari-mon (雷門). Around the temple, streets and small boutiques selling traditional stuff or sweets  are always filled with tourists whether young students or aged couples from all across Japan and the world. Surely it is one of the most popular places for tourists in Japan.
Tendon (天丼) is known as a specialty of Asakusa for people visited the old town. Tendon is abberebiation of Tenpula donburi (天ぷら どんぶり), as the name shown it is Tempula with rice in a bowl. What kinds of ingredients served depend on the restaurants. The typical foods for tendon are prawn, fish, vegetables. Normal tendon is mix of several ingredients cooked in "tempula style".
Aoi-Marushi (葵丸進) tempula restaurant opened in 1946 just after the war in Asakusa. Now it stills exist as a 5 floor-height building of tempula restaurant. With the ample space, the casual restaurant is able to serve to any kind of diners from a tourist person to large groups including school students trips.
It offers 6 different tendon menus which can be selected by main ingredient or by volume even the smallest one for kids.
This is the most expensive tendon there "Tokujo (特上 the extra quality) tendon".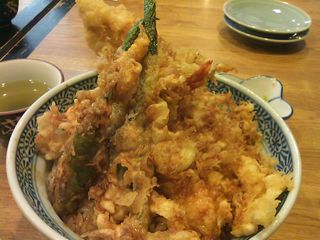 The tempula pieces are so big and many to be over the bowl
The tempula coating is crispy.
The sauce is a bit sweet.
Ingredients include 2 prawns, 2 pieces of fish and vegetables.
The volume is of course much enough for lunch.
It was hard to take dessert after the tendon.
Don't miss the specialty of Asakusa, the town with Japanese long tradition and culture is not only about Senso-ji and Kaminari-mon.
Restaurant name: Aoi - Marushin(葵丸進)
Website: http://www.aoi-marushin.co.jp
Here another well-known tempula restaurants in Asakusa. You could find a long queue in front of these restaurants during lunch time. Not to miss the specialty it is better to visit there just after its opeing time.
Sansada (三定) - just next to Kaminari-mon
http://www.tempura-sansada.co.jp/
Daikokuya (大黒屋) - known for the prawn(long!) tendon menu
Nakasei (中清) - upscale and more expensive one in the traditional style building