Hokkaido (北海道) is the northernmost region in Japan. With the huge land and rich nature, the place remind us some good quality food ingredients such as seafood (scallops, salmon...), potatos and other vegetables, daily products (butter, milk, cheese).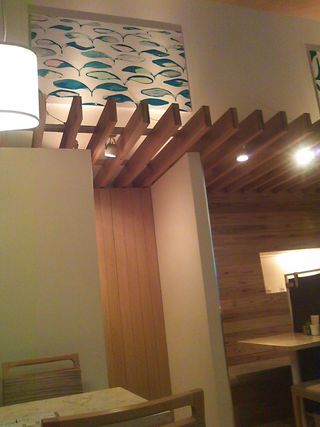 How fantastic if we are able to enjoy these fresh food from Hokkaido, while we are in Tokyo. That is Yuuyoo cafe. In the mid of business district near Shiba-koen and Tokyo Tower, Yuuyoo cafe serves dishes made with fresh organic food from Hokkaido region.
From outside, it is almost nothing change from ordinary cafe in Tokyo. The dishes on the menu are totally unique as ones available in Tokyo. All dises (I believe) include ingredients from Hokkaido and/or speciality cooking way from the region. It is really hard to select severals from the list.
The big blackboard in the cafe may help us with selecting today's dinner. It shows Best 5 popular dishes among women or men. To know how different between ladies and gentlemen is another interesting stuff ...
Looking at the menu list, it reminds us that the north land produces not a few kinds of high quality food from vegetables to meat.
A few examples we had there...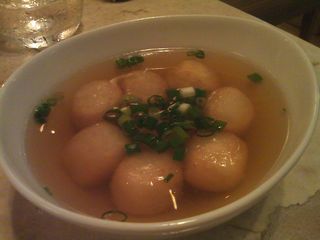 Agedashi Imo mochi
(Soup like one for Udon, the balls called Imo mochi are made from potato and
sticky damplings like traditional rice cake, mochi)
Taraba Crab meat cream croquette
(Taraba crab is one of well-known specialities for Hokkaido)
The croquette is the 5th popular dish among ladies.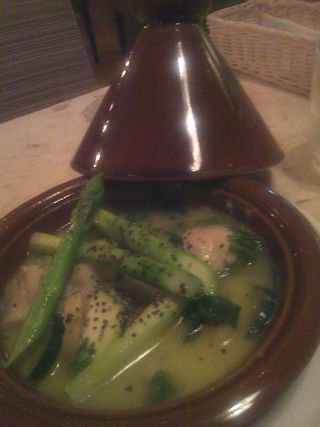 Scallops and asparagus cooked in
"tagine"(triangle shape steam pot from North Africa, but recently quite popular in Japan) 
Both ingredients are from Hokkaido of course. The spicy black pepper is a good accent.
Also do not forget the drinks and desserts...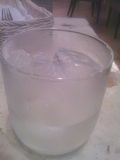 Shochu (焼酎) - milk! is used as ingredient!
though I could sense the smell or flavour from the glass.
Affogato - Milk soft cream (made in Hokkaido) with hot coffee.
That is true, after we enjoyed the dishes, we feel flying out to Hokkaido as soon as possible in order to try more food!
Restaurant name: Yuuyoo cafe Hokkaido organic
Address: Hanai building 1st floor, 1-2-9 Shiba-Koen, Minato-ku, Tokyo
Website (Japanese only) : http://r.goope.jp/yuuyoo-cafe/
From Gourmet navigator: http://r.gnavi.co.jp/e374100/