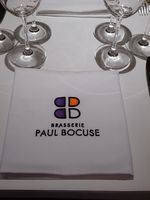 Mr. Paul Bocuse is one of the legends in French cuisine. His restaurant in Lyon, France, has been awarded as 3 stars for decades by Michelin guide book. Hoping that his French cooking is expanded to the world, the master of French cuisine also produces French brasserie style restaurants which serve at reasonable prices in casual atmosphere.
Brasserie Paul Bocuse at Daimaru Tokyo (大丸東京) is one of the units by the master French chef. As its named, the restaurant is located in Daimaru Department store, just off from JR Tokyo station. Why not to try the authentic French menu before or after your excursion to Kyoto, Kansai or Tohoku. It is less than 10 minutes to get out from crowds in the railway station and to go up to the 12th floor of the major department store adjucent to JR Tokyo Yaesu exit.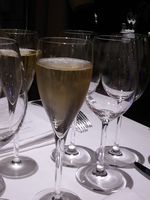 My case, it wa an event of wine tasting with special menu though. The weekday lunch course starts from Yen1200 and dinner course from Yen3500 to enjoy fine sesonal French cuisine. What's a resonable fare considering the quality of food and central location. It will be a good opportunity to pop in for lunch and to take a peaceful break during shopping at Daimaru Tokyo Department store. 
I recognized that taste of baguette (French bread) served there reminds me ones in France. I found the reason when I asked to a waiter. The bread is "made in France" and brought to Japan. Then the baguette is baked after arrived. Amaging logistic and technology...

For the French made bread, the restaurant offers butter by "Echire" which is known for the highest quality and is rare to find in Japan.
These plates were for the event of wine tasting, rather than regular one on the list.
Starter - Cheese mouse
Fish - Cod Bouillabaisse soup and safran risotto
Main dish - grilled Magret duck and duck confit (both on a plate!)
with dessert
Defenitely I hope to come back here for nice wine and French cuisine at reasonable price.
Related post, about another Brasserie Paul Bocuse unit in Tokyo:
Brasserie by Grand Chef at National Art Center Tokyo
Restaurant name: Brasserie Paul Bocuse Daimaru Tokyo (大丸東京)
Address: 12th floor Grand Tokyo North Tower, 1-9-1 Marunouchi, Chiyoda-ku, Tokyo
Website: http://www.paulbocuse.jp/eng/daimarutokyo/

より大きな地図で ブラッスリー ポール・ボキューズ 大丸東京 を表示