In Japan, we can often see very casual local restaurants on "underpass" of railways. Such places are called "gado shita (ガード下)" in Japanese, which means "beneath girder". "Gado shita" around Yurakucho station along the railway of JR Yamanote line is one of the most typical and popular ones. 
Local restaurants of "gado shita" are likely to be so casual to welcome you by simple tables on four metal pipe legs and/or yellow plastic square box used for deliverling beer bottles but hear for accommodating you as a chair. Tables and chairs are placed close each other. It is a lively place where working class middle or aging men are repeatedly gathering everynight after their hard work. That is a typical type of gado shita restaurants. As you can imagine, it is rarely appreciated by ladies. For last a few years, such images of gado shita restaurants have been diminished by several newly developped streets in central Tokyo. That keeps live atmosphere of "gado shita" as well as clean and open-minded hospitality.   
Yurakucho Sanchoku Inshokugai (有楽町 産直飲食街), opened on November 2010, is one of these new types of gado shita restaurants. 
Just a five-minute walk from JR Yurakucho station. Its exterior decorated with naked light bubles and retro style signboards remind us a good old days in 60's or 70's.
By the way, "sanchoku" is abbreviation of "sanchi chokuso" (産地直送) that means "sent directly from produced area" and at the same time it implies "fresh foods". Inshokugai (飲食街) is equals to "eat and drink street".  So "Sanchoku Inshokugai" (産直飲食街) sounds tasty, isn't it?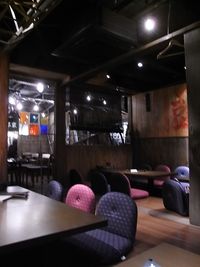 As the name shown, food and drink served at Sanchoku Inshokugai are directly from four food production regions in Japan. The restaurant is devided into four area of food stands,each introducing one of regions; Shizuoka (静岡) for seafood, Kumamoto (熊本) for horse meat, Iwate (岩手) for pork, Nagano (長野) for chicken dishes. 
All these area are known for rich nature montains, fishing ground or good soil as well as their local specialty foods, "kyodo ryori" (郷土料理).
We visited the last part of the gado shita restaurant, Shinshu Shinkei (信州神鶏), where chicken plates from Nagano are provided. It was a bit early time so was not crowded at the beginning. It is cozy and warm place surrounded by wooden furniture, floor and walls. Some flyers and bus time table(imitation copy) on the walls make the place as if it were situated in countryside of Nagano, rather than very central of Tokyo. We felt that we were in a scene of a film in 70's...
What we ordered are...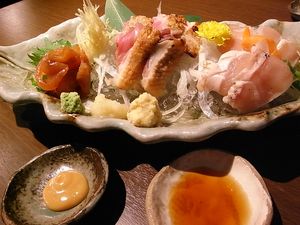 "Fresh chicken" sashimi (刺身) plate
Yes, they are NOT fish but fresh chicken meat.
It is rare to be found in Tokyo...
The taste is bland never be strong.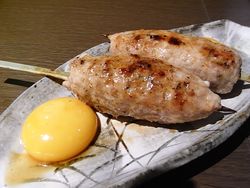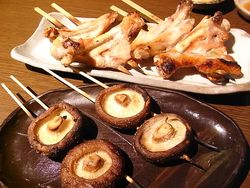 Left: Tsukune (つくね, minched meat balls) with egg yolk, the best dish I had here.
Right: Chicken wing sticks and "shitake" mushrooms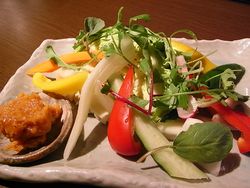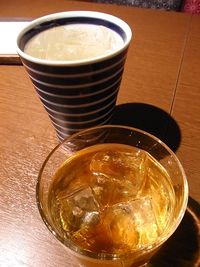 Left: fresh vegetable plate at "sanchoku" restaurant is must-have item.
Right: fruites liquor are also made in Nagano, apple and yuzu citrus.
It is an good opportunity to discover fresh food and local specialties of different regions and to be relaxed in an atmosphere of a good-old-day in Japan.
Restaurant name: Yurakucho Sanchoku Inshokudai (有楽町 産直飲食街)
                            Shinshu Shinkei (信州神鶏)
Address: 2-1-11 International Arcade, Yurakucho, Chiyoda-ku, Tokyo