Tharros, an Italian restaurant in Shibuya, featuring specifically south Italy and Sardinia food, started Charity Wine plan for their diners. As the charity plan, the first glass wine is offered to guests just at Yen100. If the guests would, they are encouraged to pay more than the price Yen100 and the amount will be contributed as donation to the earthquake and tsunami disaster relief.
The charity plan, named as "Gambari AMO" is offered until the end of July 2011, along with another promotion plan, stamp rally by which 5 stamps out of 10 Italian restaurants in Shibuya becomes a Yen 5000 voucher consumable at Tharros. 
Well, more about Tharros, it is situated a few minutes walk from Shibuya station and the "world-busiest" Shibuya crossing. In the area behind two big commercial complex, Tokyu Plaza and Shibuya Mark City, some interesting small restaurants can be found in addition to Tharros and Cowbelle which was introduced on this blog in the past.
South Italian style antipastini dishes
such as tuna, sardine, mushrooms... 
but it is small pieces of pasta
"Pane frattau" Sardinia style lasagna with poached egg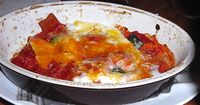 With rich in seafood, olive oil and tomato sauce, their Italian dishes are healthy and good taste of course!
Let's enjoy healthy Italian and contribute to donation at the same time!
About Gambari AMO promotion plan, it is also available in English on eatpia.com.
Restaurant name: Tharros
Address:

SEDE Building 1st floor, 1-5-2 Dogenzaka, Shibuya-ku, Tokyo