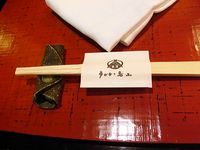 After mount hike in Takao (高尾), to make the most use of travelling far from central Tokyo, whether it is lunch or dinner time, we suggest a fantastic dining experience in Takao.
The experience is even for us, Japanese, something special and unforgettable. 
The luxury restaurant, Ukai Toriyama (うかい鳥山)is 10 minutes car ride from Mt. Takao's (高尾山) gateway rail station, Takaosanguchi (高尾山口). The restaurant provides complimentary shuttle bus service for their diners to/from Takaosanguchi railway station every 20 minutes. The 10-minute bus journey took us into unfamiliar area deeper woods and less residence houses.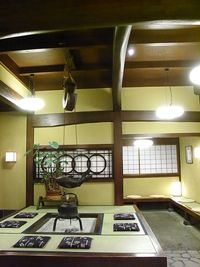 As soon as we arrived and after we were checked in with table reservation, we waited for a few minutes at a cozy waiting space with folk decorations and "irori" (いろり) fireplace. 
The restaurant seats are not accommodated in a single modern building but are scattered in Japanese traditional garden and in traditional style small or middle-sized buildings.  While a lady in Kimono took us to our table in a dining hall, we were admired by the beautiful and romantic scenes of large Japanese garden with red painted bridge on creek, thatch roofing bower and wooden water wheels.
WOW, it is "time trip" to ancient Japan which we imagined as "old tale". 
Our table was ready and facing to the lovely Japanese garden with a pond. 
Whatever we have, it must be nice experience already with the Japanese garden and folk room decoration.
Anyway, here chicken or beef barbecue is the restaurant's speciality. After some starter dishes and/or soup bowl, let's enjoy self-BBQ in ancient style, meal cut in large size and skewered. 
At the end of the course meal, rice with tororo (とろろ, Japanese yam potate) and miso soup are served.
Our dreamy experience was continued to a seasonal special event there.
From the beginning of June to Mid-July, the restaurant offers "firefly show" (hotaru gari, ホタル狩り) at the garden on evening.
After the BBQ dinner, we had been fully fascinated for about 20 minutes with subtle lights by fireflies drifting in the dark. Really sorry for you, it is not technically possible to picture the scene. It is available only when you visit there in real. 
I could never imagine that I was able to see a dream, such many of fireflies in the dark as real-life experience. As you know, Tokyo surroundings where the land is totally developed everywhere, it is rarely found a place which is completely dark without light. 
The experience was even for Japanese, beyond our expectation. 
Don't miss the chance after you visit Mt. Takao
The restaurant offers different attractions season by season.
Reservation is of course essential for the restaurant.
Related link: 
Restaurant name:  Ukai Toriyama (うかい鳥山)
Address: 3426 Minamiasakawa, Hachioji-city, Tokyo
Website: http://www.ukai.co.jp/toriyama/
Accommodation in the area