You may know Ginza Shiseido (資生堂) building where the best-known prestigeous Japanese cosmetic producer offers various dining choices in the eleven-story builiding facing Ginza Chuo street.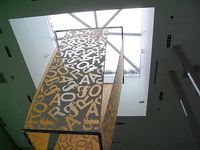 On May 2011, "FARO_slow time" opened on the top floor with the concept of tasting blessing from the sun.
Going up to the top floor from the vibrant main street of Ginza, the top floor is unexpectedly calm and peaceful space. As matched with the concept, the space is filled with brilliant sunlight from a roof window. Wooden decoration and light green color accent also contribute to make the "slow time"atmosphere.
Truely it is a place where we are able to spend "slow time". We found a nice oasis in central Ginza.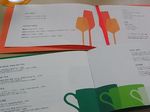 The casual restaurant offers several selections of vegetable plates as well as fish and meat as main dish for lunch and dinner. Dessert and tea time are also very attractive due to the imaginative dessert plates with fresh high quality fruits and healthy ingredients such as beans, rice powder.
The narure-friendly concept is spreded into a small piece of items found there.
A "leaf-shape" spoon is put for sugar pot.
In very hot summer day time, let's spend "slow time" and cool down in the central Ginza location.

By the way, we found floor button board  in the lift looks unique, though it confused us a bit to find an appropriate floor button...
Restaurant name: FARO_slow time
Address: 11th floor Tokyo Ginza Shiseido Building, 8-8-3 Ginza, Chuo-ku, Tokyo
Website: http://faro.shiseido.co.jp/slowtime/e/
<Accommodation close to the site>