As many of you may know, in Japan, especially Kanto region (Tokyo and surrounding area) as well as Tohoku region, we are encouraged to save electric energy as much as possible during this summer, because the damage on nuclear power plants in Tohoku is followed by less supply level in electronic energy.
Japanese government urges industries to reduce energy consumption for their production and other business activities by 15% from last year. As a way to respond to this initiative, some major enterprises, such as auto car industry giants Toyota, Nissan and telecommunication NTT Docomo, have changed office close days from weekend (Saturday and Sunday) to two consecutive days on weekday (for example, Monday and Tuesday or Thurseday and Friday), so as to reduce energy consumption during weekday which is the peak in electricity usage. Other companies started voluntary summer time which means their business hour start and end earlier than usual by 1 or 1.5 hours.
These efforts by bussiness organizations in Japan also impacted on food service industry in the same area. If you travel to Tokyo during this summer, you could also take advantage of the changes as followings.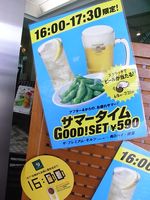 * Bar, Izakaya and restaurants start "Happy Hour" from 4 p. m.
Considering business people complete their work 1hour earlier than usual, some restaurants and bars are offering happy hour (discount price for alcohol or other selected products) mainly from 4 o'clock on late afternoon. That must be a big advantage for travlers too.
Enjoy and share chilly beer with Japanese business people from 4p.m.!
*Cafe open earlier for breakfast
As same with Happy Hour at bars, cafe, first-food and coffee shops, which provide breakfast in the morning, open earlier 1-2hours than usual for early-bird business people. Some of them also offer more selections of breakfast menu. It is also an advantage for travelers who have to depart in early morning for excursion or journey on air or train. 
*Restaurants open during weekend in business districts
In the business districts like Akasaka, where less potential clients exist during weekend normally, some restaurants decided serving on weekend as well during this summer so they can capture week-end workers in the area. Even you stay in such business district, you will also more choices of dining during weekend and you might not have to go out further from your accommodation. 
Such effort and cooperation by business organizations and people in Japan is so far successful in reducing electric energy since the beginning of July 2011.
Of course, Japanese people are happy to share this relaxed summer time with foreign travelers