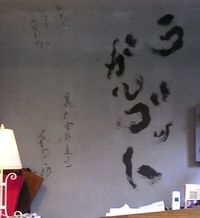 La Garagote French grill & wine bar is an interesting restaurant located in Azabujuban, where it is not far from Roppongi Hills. The restaurant's French owner aims to be "an authentic alternative to an izakaya (居酒屋, Japanese style dining bar) in French culinary."  It is not an ordinaly French restaurant, while the grill which can be seen from the counter table makes us remind a typical Izakaya. 
The menu is also not like the ones offered at typical French restaurant where we are likely to have course meal with knife and fork. La Gargote rather provides, like Izakaya, a wide selections of plates on the list from starters, pasta, speciality seafood, duck confi, fois-gras. These plates with French style ingredients are arranged in Gargot's original style and can be shared as we do at Izakaya. Of course the French Kushiyaki (串焼き, skewered foods) is their speciality that cannot be missed. Kushiyaki and char-grill will be prepared by French chef at the grill on the ground floor.
Kushiyaki, the taste arranged with spice and hearbs also brings savory scent to your table.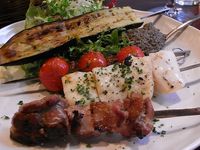 By the way, the name "La Gargote" represents "hashery", chep and casual dining hall in English.
It is a kind of joke by the French owner. The restaurant never be a such type of restaurants!
The restaurant's icon, owl also welcomes you...   
********* Update 24 March 2013 ***********
   The restaurant has been closed.
*****************************************
Restaurant name: La Gargote
Address: 1-3-13 Azabujuban, Minato-ku, Tokyo
Website: http://www.la-gargote.com