"Rose Bakery" is not an ordinary style bakery where we can buy some bread. It is a cafe produced by a British lady Ms. Rose Carrarini and her French husband. The unit in Marunouchi Tokyo is their 6th one after Paris, London and Korea.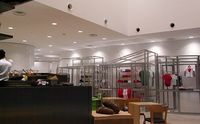 What is unique of Rose Bakery in Marunouchi is that the cafe is sharing the space with COMME des GARCONS brand boutique for which Ms. Rose Carrarini's sister-in-law (Ms. Rei Kawakubo) produces and design its products. 
Marunouchi area, where luxury brand boutiques, many of them from Europe, stand by in a row along its main street, is just five minutes walk from JR Tokyo station. The space of COMME des GARCONS boutique is surrounded by white walls and ceiling. It is very modern that is well matched with COMME des GARCONS cloths. On the other hand, foods offered at Rose Bakery, like their cafes in other locations, are rather natural taste and traditional European dishes with a lot of vegetable menu, such as quiche, pancake, scone or carrot salad.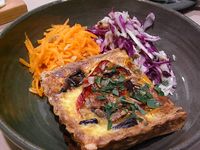 It also adds a bit Japanese flavor in its tea selection and pot.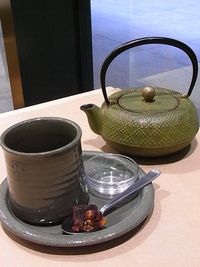 "Campagne" bread on a board is one of the cafe's icon item.
It is baked in its original recipe and
served with butter by Lescure (French high quality butter producer) and rock salt in rose color.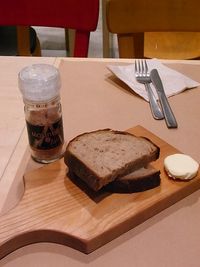 Enjoy healthy and natural light meal, while looking at the latest fashion by COMMES des GARCONS.  
Cafe name: Rose Bakery
Address: 1st floor Meiji Yasuda Seimei building, 2-1-1 Marunouchi, Chiyoda-ku, Tokyo
Website: http://rosebakery.jp/ 
 Location map: http://rosebakery.jp/map.html