Sukiyaki (すき焼き) is one of major Japanese menus that may be suitable for entertaining important guests. As a typical Sukiyaki dish, beef, tofu and vegetables are cooked in a shallow pot which can be shared by around 2 to 6 people. For pot soup, soya sauce (shoyu 醤油) and sugar are used as ingredients and it tastes a bit sweet. Sukiyaki is likely to be served by pot or cooked in front of guests on a table. 
 After it is cooked, broken raw eggs are used as dip sauce for Sukiyaki. Don't worry, in Japan all eggs distributed in markets meet enough high sanitary standards that allow consumers to have them fresh and without cooked.  
Imaasa (今朝) is a Sukiyaki restaurant which is proud of its over a century history since 1880. The luxury restaurant have been patronized by celebrities and have been mentioned on some literary works.
Nowadays the restaurant, which is just five minutes walk from Shimbashi station, is filled with business people during lunch time and is used even for business entertaining. On dinner time, it requires around Yen 10000 or more amount of budget per person to dine there, while on lunch time, the high quality beef menu is available at much reasonable prices from Yen 1000-2000.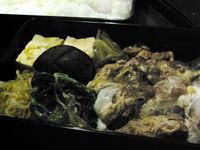 Do not miss a chance to enjoy traditional Sukiyaki menu with Japanese beef.   
It is situated on the east of JR Shimbashi station, it is rather a short distance walk from Tsukiji Market and Ginza shopping district.
Restaurant name: Imaasa (今朝)
Address: 2nd floor Imaasa building, 1-1-21 Higashi-Shimbashi,
Minato-ku, Tokyo
Website: http://www.imaasa.com