You may be interested in Izakaya and local cuisines of Japan. But if you would not like to be tired with hassles at a very local place where almost no English is available, Arata (新) must be a good option for you.
Arata is located in a luxury shopping complex, Roppongi Hills. Roppongi, the town, may be the place where we find the most number of non-Japanese people in Japan. Like other restaurants in the town, at Arata, you do not have to worry whether the restaurant has English menu or not. 
The modern fashionable interior decoration of the restaurant includes a big wall art of Kabuki actor depicted with illuminated Swarovski stones on ceiling.
On the other hand, what we can find on the menu list is quite local-Japanese dishes that are likely to be offered at traditional "Izakaya".The restaurant aims at proposing new types of "washoku" (Japanese dishes) like the name, arata (新) representing "new" in English.
Let us show you, what we ordered one day.
Shutou (salted guts of Bonito) with cream cheese (bottom) and
pickles of Japanese vegetables (upper)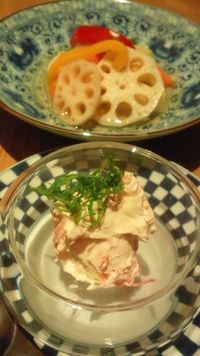 "Shutou" is a rare delicacy from Kochi, Shikoku region.
The salty taste is well matched with cream cheese.
Kujo leek, known as specialty of Kyoto, sautee with chicken on heated iron plate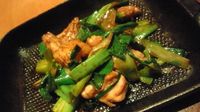 Californian rolls - that is not Japanese traditional menu though...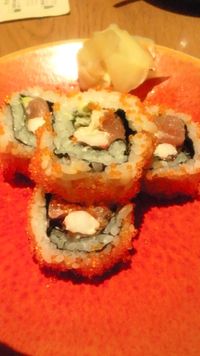 Modanyaki (pancake of pork, cheese and noodle)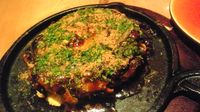 We could not imagine that we had such a casual local menu
like Okonimiyaki (Japanese style pancake) at this fashionable Roppongi Hills!
Creme brulee with chest nuts ice cream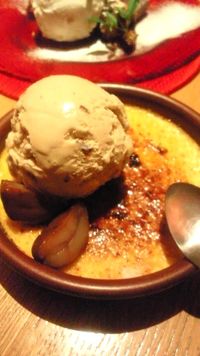 Our journey of Japanese local specialty was not ended
with a simple ordinary dessert.
Chestnut ice cream is on top of
the creme brulee made with rich high quality egg. 
Other interesting menu will be spicy fried chicken wings Nagoya style, Aburi (char grill) chicken or seafood delicacies, Kushi (skewered) or yakitori and one of the restaurant's featuring item, Nagasaki champon noodle in rich soup cooked for 10 hours.  
Arata also provides an interesting list of beverage including original cocktails with Japanese ingredients. The price starts from Yen 500.
At the end of the meal, you might be surprised with the charge. It won't be much higher than the check at casual Izakaya. Considering the restaurant's location, atmosphere and attentive services, it must be value-for-money safe option especially for non Japanese speakers.
Restaurant name: Arata (新)
Address: B2 floor Hillside, Roppongi Hills, 6-10-1 Roppongi, Minato-ku, Tokyo
Website: http://www.a-ra-ta.com