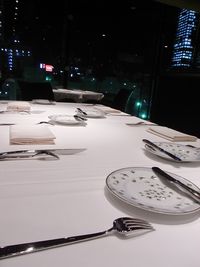 Au gout du jour Nouvelle Ere, awarded one-star from Michelin guide, is situated on the 5th floor of Shin-Marunouchi building. Just in front of Tokyo station, the 5th floor of Shin-Marunouchi building must be itself an exciting place for food lovers, as we can find variety of interesting dining options from very casual Izakaya, oriental cuisine、wine bar to upscale one like Au gout du jour Novelle Ere where we visited. In spite of tens of restaurant choices on a floor, some of popular ones are fully occupied mainly with local business professionals working in the area on weekend-evening.   
Well Nouvelle Ere is one of five French restaurants by Au gout du jour group. The chef has worked at some Michelin star restaurants in France as well as popular French restaurants in Tokyo. He also has experience of working at a patisserie. With his such backgroud, the restaurant features not only sophisticated French cuisine but also its dessert plate which they consider as "the second main dish". 
Because they make the most use of seasonal ingredients changing time by time for their small capacity 24 seats, the restauran does not put detail of menu on the official homepage. Like Japanese luxury Kaiseki cuisine, only course price list is there...for example "dinner course Yen 8000 and Yen 13000".
Let us show you a part of what we had on a day of January 2012.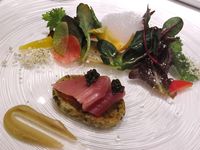 One of starter - tuna carpaccio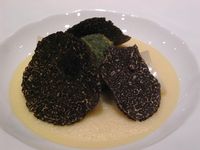 Another starter - flan of "Shogoin" turnip
We are always fanscinated by pieces of truffle.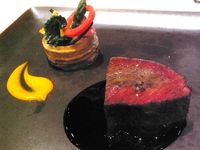 Main dish - beef cheek confit
Surprisingly tender and large. It is cheek, isn't it?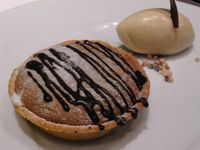 Dessert - Fondant au chocolat
As the restaurant's purpose maybe,
it was really hard to choose only one from very attractive desssert list.
I believe Fondant au chocolat, which does not look like so,
is one of the best choices among them.
Crispy cake and warm melting chocolate cream...
It was good end plate of the fantastic dinner.
What we should note about the restaurant, 
Japanese taste such as yuzu (Japanese citrus), miso or soy sauce are often used as accent of sauce. Some of plates hint at Japanese cuisine. That is interesting point of the French cuisine restaurant in central Tokyo.
Not so wide choices on the wine list but the prices of bottle wine are quite reasonable. 
Overally as a Michelin star French restaurant, we can say that it is a value-for-money choice and a unique experience of Tokyo. 
Restaurant name: Au gout du jour Nouvelle Ere
Address: 5th floor, Shin-Marunouchi Building, 1-5-1 Marunouchi, Chiyoda-ku, Tokyo
Website: http://www.augoutdujour-group.com/no/