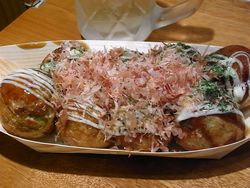 Takoyaki (たこ焼き, octopus balls) is one of the most well-known local specialty "traidtional fastfood" in Osaka. It is a kind of salty small round cakes inside of which diced octopus and vegetables are. Sweet thick special Takoyaki sauce is normally on top of them. The crispy outer inside is filled with hot creamy dough and pieces of octopus etc. We are always warned not to eat a ball at one bite, because it is enough hot to burn your tongue. The yummy-round-appearance tempts us to do so...
Gindaco is a chain of Takoyaki stands and Takoyaki bars where guests are able to enjoy both takoyaki and alcohol drinks in very casual atmosphere. In many cases, it is served as standing bar. "Tsukiji" top name is inspired by the fish market town. Gindaco's flagship store on the edge of Ginza is actually just a corner away from Tsukiji.
At Tsukiji Gindaco units, in addition to ordinary style takoyaki with sweet Worceter-like brown sauce, it offers unique variations of takoyaki, such as with cheese, mayonaise or shredded leeks, all at very reasonable price Yen 600 or less for 8 pieces.
"Highball" (whiskey soda cocktail) is also featured at Tsukiji Gindaco bars.
Needless to say, it goes well with takoyaki.
Tsukiji Gindaco units are in some central locations of Tokyo, such as Akasaka-Mitsuke, Hamamatsu-cho (not far from Tokyo Tower and Zojoji-temple), Shibuya or Roppongi.
It is also worth mentioning that on last December Gindaco's owner company moved its headquater office to Ishinomaki-city Miyagi prefecture, where it got seriouse damage caused by Tsunami on March 2011. The decision was made by the topmanagement in order to contribute more to recovering through income tax payment and employment generation in the region.
Tsukiji Gindaco official website: http://www.gindaco.com
Ginza flagship store
Address: 4-14-3 Ginza, Chuo-ku, Tokyo
Akasaka Mitsuke
Address: 3-10-19 Akasaka, Minato-ku, Tokyo
Hamamatsucho
Address: 2-3-33 Hamamatsu-cho, Minato-ku, Tokyo
****************** Find accommodation in Japan ***************
OSAKA / NARA / SAPPORO / TAKAYAMA / TOKYO/YUFUIN
YAKUSHIMA / NOZAWA ONSEN / NISEKO / NIKKO /

HIROSHIMA / MATSUMOTO / KYOTO / KANAZAWA / ISHIGAKI ISLAND /