Mr. Susumu Koyama is one of the most popular confectioners in Japan. Some of you may know his name because of his prize "the Most Outstanding Foreign Chocolatier Award" obtained at the 2011 Salon du Chocolat in Paris.
Fluffy roll cake "Koyama Roll" and Baumkuchen produced with high quality rich eggs are two main products of Mr. Koyama's patisserie located in residential area of Hyogo Prefecture. The 1200 square meters theme-park-like world of "es koyama" might be too far for many people to visit by traveling for 40 minutes from Kobe or Osaka, while a group of his shops each specialized in pastry, chocolate, jam, bread and ice cream as well as atelier of Baumkuchen, cafe and cooking school must be fun place for sweets lovers and worth spending almost a day there. 
Here on this blog, we would like to introduce his unique character or a sence of fun, something different from es koyama's main products roll cake or Baumkuchen that must be loved by everyone from children to elderly.
We found the most popular confectionary's new product at Salon du Chocolat Tokyo, another version of the highly influential event presented in Japan last month.
The chocolate cake is called "hekkonda", literally "dented" in English. 
Just as the top of the box, looks like mountain...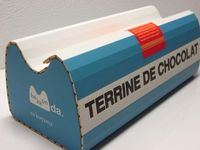 Opening the package, we found a box inside colored in vivid pink unexpectedly and a message from the chef in English on top of the cake wrapped with silver foil.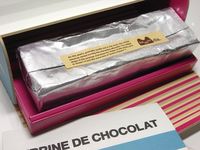 "hekkonda" terrine de chocolat is named after the shape of it.
Through the baking process, most part of the cake has been swelled out,
while only the central part has been sank and been lower than the edge.
The award-winning patisserie chef Mr. Koyama felt it quite interesting and
has named the new product after the cake's look "hekkonda".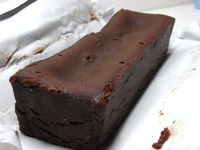 Of course not only the cake's name is significant. 
The chocolate cake has very rich cacao flavor 
 in the soft and fresh texture.  
As the Salon du Chocolat recognized, it is surely the work
by "the Most Outstanding Foreign Chocolatier" in the world.
Apart from es koyama flagship boutique in Hyogo prefecture, his products are sometimes available at special promotion events at major department stores mainly in Kansai region(Osaka, Kyoto, Kobe and surroundings) or through its online store.
Shop name: es koyama
Website (Japanese): http://www.es-koyama.com
Website (global): http://www.es-koyama.com/global/index.html

Movie at 2011 Salon du Chocolat Paris: 
http://www.es-koyama.com/movie2/movie.html