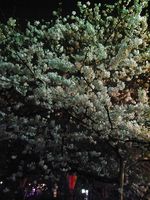 As many of you know already, around the end of March to beginning of April is the best season to appreciate Sakura (桜) or cherry blossom in Tokyo and other parts of Japan.
In Tokyo, Meguro river side becomes more popular among locals as a cherry blossom viewing spot year by year. 
Many restaurants standing along Meguro river side between Gotanda to Nakameguro area are fully booked during the season. 
Today we recommend alternative course to enjoy a real Izakaya near the cherry blossom spot in Nakameguro, maybe before night stroll along the river.
Izakaya "Nakame no teppen"  (なかめのてっぺん) is off from Yamate-dori, the busy main street of Nakameguro. It is a five-minute-walk from Nakameguro station on subway and Tokyu Toyoko lines. Arriving the multiple-tenant building, many will be confused with another izakaya facing onto the street and being the second unit by same owner.
Th entrance of Nakame no teppen is "hidden" inside of the building and is "too small to find" for many.  Don't worry you will see what that means and the Izakaya staff will find you soon.
Seen inside of the restaurant, it is exactly a typical izakaya that many imagine; wooden tables and a counter in center where the chef prepare yakitori (skewered chicken), hand-writing seasonal menu on walls and lively atmosphere.
We ordered some of Spring season icons before going out to the river side for cherry blossom.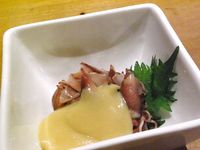 Firefly squid (ホタルイカ), sour miso suace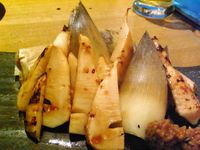 Grilled bamboo shoots (焼き筍)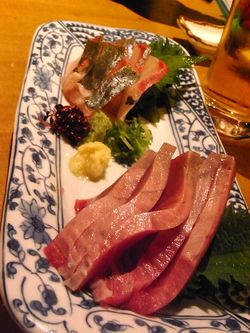 Sashimi plate is one of "must" iteam for Izakaya dinner.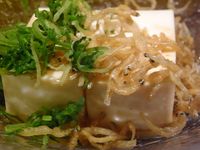 My favorite is tofu with crispy tiny whitebait (豆腐と揚げじゃこ)
 It also has fine selctions of Japanese alcohol, sake, shochu (distilled sake) served by a nice Japanese earth cup and Highball(left picture, whiskey soda).
Nakameguro is residential area just one or two stops from both Ebisu and Shibuya on Yamanote line. In Nakameguro, there are many interesting non-chain-affiliated restaurants. The town is always busy with local diners. Sidewalk way along the Meguro river is five minutes walk from Nakame no teppen. Just go strainght toward the river, crossing Yamate street. 
Restaurant: Nakame no teppen (なかめのてっぺん)
Address: 3-9-5 Kami-Meguro, Meguro-ku, Tokyo
Restaurant Information in English: http://r.gnavi.co.jp/b284900/lang/en/