Ningyocho (人形町), literally meaning "dolls town", is an interesting district for a stroll in east Tokyo. The name reportedly comes from the history of the town where a few of Japanese traditional puppet theaters had been there or where a lot of puppeteers lived there in Edo period. Nowaday one of major theaters for Kabuki and other plays, Meijiza (明治座), stands on the town. 
Apart from Meijiza, many small shops, bars, restaurants and studio of Japanese traditional craftwork can be found in the district. Many of them have been loved and supported by local clients for long years. In the heart of Tokyo, Ningyocho reminds us a good old day of Japan, while walking and shopping around at the town. It exist in a town of 10 minutes drive from Tokyo station where tens of Shinkansen bullet trains run in and out. 
Morinoen (森乃園) is one of such small but great shops. The tea shop with a century long history is specialized in Hojicha (焙じ茶), Japanese grilled tea. If you walk down the main street of Ningyocho on weekday afternoon, you may sense the roasting tea aroma. The scent comes from the second floor of Morinoen making grilled tea. The brown tea has excellent flavor and joy different from fresh green tea. It gives you a calm peaceful moment.
It will be a good idea to get a pack of Hojicha, Japanese grilled tea at Morinoen for souvenir. What can't miss at Morinoen is not only the tea leaf.
On the second floor, the tea shop offers a cozy tea salon, next to the studio making tea grilled. The small space is filled by local guests and staff are running around to serve them.
The list of attractive Japanese sweets from ice cream parfait, anmitsu (beans paste and syrup), sweet bean soup to dumplings, will make you be in trouble to select just one or two from them. So let's take the one very unique to the tea store.
This is it, Hojicha ice cream parfait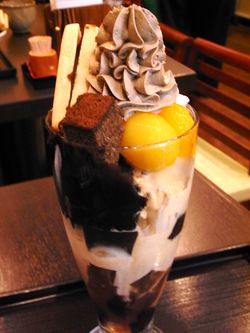 Ice cream, jelly and cream, all of Hojicha flavor
as well as small pieces of cake, dumplings
fill a tall glass.
That is another way to enjoy the grilled tea introduced by the tea shop master.
Why not try it?
Tea store and cafe name: Morinoen 森乃園
Official website: http://morinoen.jp/
Address: 2-4-9 NIhonbashi-Ningyocho, Chuo-ku, Tokyo