Do you know what "shari" means in Japanese?
"Shari"(シャリ) is cooked and vinegared rice which is used for Sushi. It is said that superior skill of Sushi cook masters appears as good quality of shari that supports main actors, seafood on top of it. Good shari is made by delicate adjustment of heating and cooking rice, mixing a certain amount of vineger with rice etc. The work is too skilled and delicate to be ignored when you have sushi at nice and traditional sushi restaurants.    
So Shari The Tokyo Sushi Bar, the modern Japanese restaurant featuring colorful sushi rolls took its name from one of the most important parts of Sushi cooking, implying something new through the logo spelled in alphabet as "Shari" not in Japanese characters. 
The space on the 8th floor of a modern building in Ginza, just a block away from both Printemps Ginza department store and Ginza 1-chome subway station. It might not be looked as sushi restaurant from the chic interior with dark brown wooden tables, open-kitchen counter and yellow-green back chairs on gray carpet floor. Waiters of sophisticated appearance may be better matched with a posh French or Italian restaurant.
Yes, the sushi served at Shari The Tokyo Sushi Bar is also never what we expect for an ordinary sushi restaurant. It is modern and polished Sushi. Their rolled sushi plates delight diners more by the colorful looks and variety of ingredients unusual for traditional sushi; avocado, mango fruit, squid ink, fried shrimp etc.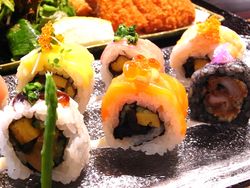 The lunch rolled-sushi set includes several different kinds (and colors) of sushi rolls as well as a choice of "side dish" such as fried chicken (tatsutaage 竜田揚げ), tempura, fried tuna (kajiki maguro fry, カジキ鮪フライ) or grilled fish (yaki-zakana 焼き魚). The price, a bit over Yen 1000, has very good value.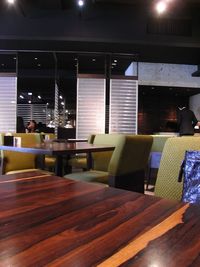 Restaurant name: Shari The Tokyo Sushi Bar
Address: Albore Ginza, 2-4-18 Ginza, Chuo-ku, Tokyo
Website:  http://www.shari-ginza.com
Information in English: http://r.gnavi.co.jp/a727903/lang/en/