Tokyo Skytree, the newest icon of Tokyo, opened last month. Although the 634-meter-high tower's main role is broadcasting transmission, many people are more attracted by the observation deck on 450 meters height from the ground. For the entrance until 10 July 2012, advance reservation is required and is almost sold out. On 11July or after, long queue for getting an entrance ticket is anticipated. Then let's think another way to enjoy the newest tourist spot of Tokyo.
A riverside cafe, Cielo y rio is one of such options, situating a stop away from Asakusa on Oedo and Asakusa subway lines. When the weather is fine, it is a nice stroll of 15 minutes along the Sumida river from Asakusa to the cafe in Kuramae (蔵前) area.
The interior decoration of Cielo y rio is totally different from what you can find in Asakusa, the most popular tourist spot of Tokyo. It is modern and very lovely everywhere.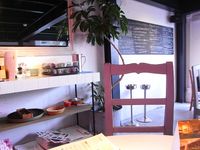 The restaurant faces to Sumida river side widely and Tokyo Skytree on the other side of river is visible from the window side and outside terrace.
The menu is also far from ones in Asakusa. It offers Western style plates that match with the adorable decoration. Lunch set, available until afternoon, includes rice or bread as much as you can at reasonable price less than Yen 1000. The bistro provides wide variety dishes for dinner, from fresh fish carppacio, cheese platter, several kinds of pasta plates, Spanish paella, meat plates as main dish. 
As it opens without a break, it can be used as a cosy cafe on afternoon. In addition, only for weekend, it opens for breakfast from 9 a.m. It's a good idea to leave your hotel or room from early morning on weekend and, after having breakfast at Cielo y rio, to visit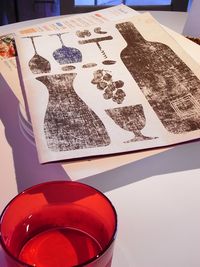 Asakusa in the morning, less crowded time. 
Restaurant name: Riverside Cafe Cielo y Rio
Address: 2-15-5 Kuramae, Taito-ku, Tokyo
Website: http://cieloyrio.com