Hot and humid Summer is arrived in Tokyo. Today's post is about an oasis providing fresh fruits juice. 
If you are based in US, probably you already know about the juice-focused shop born in L.A., Robecks Juice.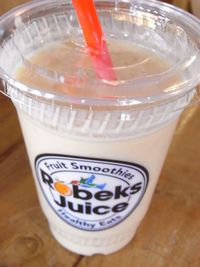 The West Coast style juice shop arrived in Tokyo last year and the second unit also opened recently in Harajuku.
Robecks Juice's main products are premium smoothies made with fresh and healthy ingredients, which will be made after it is ordered. It offers more than 10 selections of smoothies with fresh fruits strawberry, banana, orange, pineapple etc. In addition, if you prefer something more watery, fresh juice carrot or orange, hot juice, fruits tea are also available. Yuzu (Japanese citrus) honey tea, Mango & Leomon hot juice etc...they are also attractive options.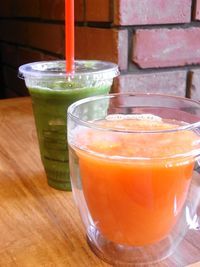 These drinks are of course the best suit for breakfast time. So Robeck Juice opens from morning 7h30 a.m and offers food also suitable for breakfast such as muffin, croissant, cinamon roll and sandwiches.  
The first unit of Robecks Juice in Jiyugaoka residential area of Tokyo has two floors with ample seating space. In some parts, it has a large table with electrical outlets for "nomad-workers." That makes your work-life healthier? The bringht and pop atomosphere reminds us the brand coming from L.A.
Another thing to be noted about Robecks Juice units based in Japan, they use high quality "Tsujirihei-Honten" (辻利兵衛本店) branded green tea from Kyoto for their green tea related products.   
Your accompanying person would not like to take fruits juice? Don't worry
 it also provides coffee like an ordinary cafe. 
Cafe name: Robecks Juice
Official site: http://www.robeks.co.jp
<Harajuku branch>
Address: 4-31-6 Jingumae, Shibuya-ku, Tokyo
<Jiyugaoka branch>
Address: 2-11-13 Jiyugaoka, Meguro-ku, Tokyo