We understand high quality Japanese beef is quite popular among readers of this blog and that to have it in Japan is one of attractions to be completed during your trip in Japan.
Today's feature a small restaurant in Roppongi (also known for the largest night spot of Tokyo) providing high quality Japanese beef at very reasonable cost.
The restaurant's operator, Sugimoto (スギモト) is one of established meat distributors and  founded in 1900. Especially based in Central (chubu) region of Japan, it deals with recognized Matsusaka beef (松坂牛) which is eaqually appreciated as the best of best beef in Japan with well-know Kobe beef. Not only to distribute meat products to restaurants and retailers across Japan, Sugimoto runs own restaurants. One of them is located in Tokyo Midtown, a luxury shopping complex in Roppongi.
The small restaurant only with 14 seats is behind Sugimoto's butcher store counter on the underground floor. Many people could miss a chance to get the high quality beef available at just over Yen 1000, overlooking the tiny entrance. Otherwise several people might be making a queue in front of it.
The restaurant offers only several menu such as hamburg steak and sukiyaki but it is enough to taste the high quality beef at the best condition and in the best way. 
Sukiyaki (beef with vegetable hot pot) is the best way to enjoy Sugimoto's best Japanese beef. It is cooked in a small pot like this just for a person and is served with fresh egg for dipping sauce like other restaurants do.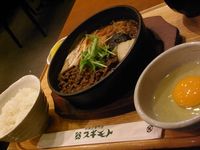 Oh! we have to mention the price of this Sukiyaki menu... it is at Yen 1380 for Sukiyaki with wagyu brand and at Yen 3150 with the highest quality Matsusaka beef for one person. Both are set menu with rice and miso soup. They can be a double price if you have same menu with same quality beef at ordinary sukiyaki restaurants. Here, as you can imagine, it is exclusively available at such reasonable price due to the distributor's own and direct operation.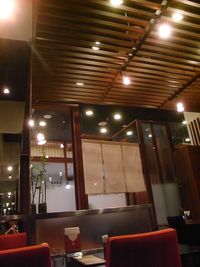 The small eating space must be comfortable even for a sole-diner, unlike a normal sukiyaki hot pot restaurant. 
The last ordering time for Sugimoto's Midtown unit is 20h30. It will be a good to have sukiyaki before dispatching out to the night spots in Roppongi.
In Tokyo, Sugimoto recently opened its newer unit in Solamachi, the shopping complex attached to Tokyo Skytree.
There, some Japanese beef menus are provided at around Yen 2000. It must be still good bargain considering the quality of beef.   
Restaurant name: Sugimoto (スギモト)
Address: B1 floor Tokyo Midtown, 9-7-3 Akasaka, Mintato-ku, Tokyo
Official site (in Japanese): http://www.oniku-sugimoto.com
Restaurant name: Sugimoto (スギモト), Tokyo Skytree Town Solamachi
Address: 6th floor Tokyo Skytree Town, 1-1-2 Oshiage, Sumida-ku, Tokyo