You may know Bill Granger's restaurant in Australia, which attracts celebrities like Leonardo DiCaprio by "the best breakfast in the world".
Would you like to try the best breakfast in the world? Of course, yes maybe.
Well you can try one in Tokyo or Yokohama  !!
Actually Bills has more number of restaurants in Japan than in his based country, Australia. There are 4 Bills restaurants in Japan with which he felt "strong connection", as per their official homepage. 
Everytimes Bills opened its door in each location in Japan, we found the restaurant soon filled up with guests during morning and even for lunch and afternoon. We guess that makes him created more units in Japan. Here again it shows how much Japanese people like to seek the best meal and to try new arrival.
BIlls' first unit in Japan opened in Shichirigahama, Kamakura (七里ヶ浜、鎌倉), being on the location overlooking beach of Shichirigahama. The next one in Yokohama (横浜) is in "Red-brick warehouse" shopping complex, standing beside Yokohama Port. Then Bills opened two restaurants in Tokyo last year and this April; Odaiba (お台場) bayside and Omotesando (表参道).
Odaiba unit stands in Odaiba beach park, overlooking panoramic view of Tokyo central area over Tokyo bay. The newest Omotesando unit is in Tokyu Plaza Harajuku-Omotesando. It is not facing to beach or sea, but is still surrounded by another type of nature, trees.
All are in selected location that may be suitable even for celebrities' breakfast and all have some tables on terrace where a pet is allowed to be in. Restaurant inside has expansive and bright in white color and narutal taste in every location.
Well, we will show you what we had at Bills Yokohama.
The menu is actually exlclusive to Yokohama unit.
Very berry pancake!! with berry butter.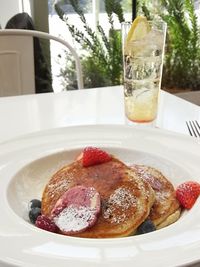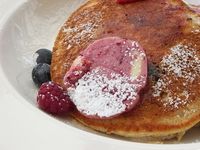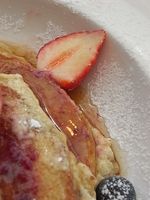 Dish filled with berry flavour and the pancake is imaginably fluffy. 



In other units, still we can find another flavour of fine pancakes and other attractive menu such as fruit muffin, banana & chocolate bread, scramble eggs, and ausie breakfast set.
Bills provides different menu for breakfast, lunch and dinner. Even for dinner, it offers the pancake menu as dessert. 
Restaurant name: Bills
<Yokohama>
Yokohama Red Brick Warehouse Building 2, 1-1-2 Shinko, Naka-ku, Yokohama-city, Kanagawa    
<Omotesando>
 Address: 7th floor, Tokyu Plaza Omotesando Harajuku, 4-30-3 Jingu-mae, Shibuya-ku, Tokyo
View Larger Map
<Odaiba>
Address: 3rd floor Seaside Mall, 1-6-1 Daiba, Minato-Ku, Tokyo
View Larger Map
<Shichirigahama, Kamakura>
Address: 2nd floor Weekend House Alley, 1-1-1 Shichirigahama, Kamakura, Kanagawa
View Larger Map