Did you know a Japanese word "Ekinaka"(駅中)?
We believe that It won't be on your text book or a dictionary.
"Ekinaka" means "inside station" and it represents commercial facilities accommodated in a train station. They are situated in a area accessible only with a train ticket or pass rather than in a building attached to a station.
The one in Shinagawa, called "Ecute", was the very first among such facilities launched several years ago by JR East.

Last year several new restaurants and shops have been added to the commercial facility inside JR Shinagawa station.

Some of you may be based at a hotel or office in Shinagawa or other may use the station, one of the largest in Tokyo, as a transferring point for Shinkansen toward Kyoto or Osaka, local train for Kamakura or Yokohama etc. Thousands of people just go through the station but now we can also enjoy shopping time at UNIQLO famous casual wear boutique, Japanese traditional sweets stores or craft and variety goods stores on the upper floor.

Not only shopping, Ecute Shinagawa also offers variety of choices for dining.
"Standing Sushi Bar Uogasi Nihon-ichi" is one of them. As the name shown, it is a "standing bar" dedicated to authentic Sushi prepared by Sushi master working inside the counter.

The casual Sushi restaurant is operated by a Sushi chain sourcing their fresh seafood ingredients from Tsukiji fish market. What is provided at the unit inside Shinagawa station is nothing change from it. Entering to the Sushi restaurant, you will find a few Sushi chef preparing sushi inside the counter. Apart from the counter table without a chair, the quality of Sushi must be quite similar to an ordinary sushi restaurant.
Considering the points, the price of Sushi provided at Uogashi Nihon-ichi is rather amazing. The price for a piece of Sushi starts from Yen 75 or Yen 150 per order (because minimum order is a pair for a kind of Sushi) and majorities of their Sushi are Yen 75 to Yen 200 per piece.
The menu written on wooden plates and hang on a wall include names in English. Of course the price shows clearly for each group of seafood. That must make you feel comfortable to order to one of the Sushi chef in front of you.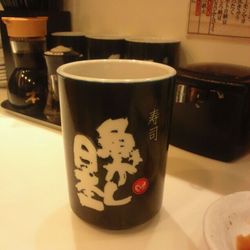 Green tea is "self-service" at free of charge. All stuff for tea can be found on the counter table.
Take a tea cup and add a spoonful green tea powder in it from a pot on the table. Then pour hot water carefully from a tap in front of you. Maybe it is another reason of the least expensive sushi price.
If you would, the restaurant offers Sake and beer as well.

 
Your sushi ordered will be quickly prepared by the chef and placed on a green leaf used as a plate. Just remind you … that the natural tool is never for cost-down but for creating atmosphere.
 

My order, 4 kinds of Sushi (each by pair), Iwashi, Saba, Maguro, Anago
(sardine, mackerel, tuna and conger consecutively)
and Salmon (not included in the photo) as additional.
Total it costed Yen 1100 only for a person!!
Each piece might be a bit smaller than ones at an ordinary Sushi restaurant. But due to the reasonable price, we can order more kinds of pieces if we want.

Because of the location inside a train station, that also suits for a quick bite. You will encounter local sole-diners come, have several pieces of sushi with a glass of beer and leave from the counter after 10-20 minutes, before or after his/her trip or hard-work. In that point, as the name is, the facility works like "a bar" rather than a restaurant.

Try a short-time Sushi experience like a Japanese businessman!
Restaurant name: Standing Sushi Bar Uogashi Nihon-ichi
Address: JR Shinagawa station 3-26-27 Takanawa, Minato-ku, Tokyo
Official website: http://www.susinippan.co.jp/infos/index/00131
View Larger Map