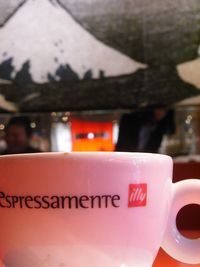 Many of you, especially those in Europe, may know Italian espresso brand "espresamente illy". The coffee brand operates several coffee shops in Tokyo and some other major cities of Japan.
As same with other units of espressamente illy, it provides authentic Italian espresso and other various coffee drinks and some Italian food like panini sandwiches and dolce(italian dessert). All the units are in modern design in red tone from the brand logo.
One thing, espressamente illy Nihombashi, Tokyo is different from other illy coffee shops is a big wall is decorated with art graphic panel of UKIYOE (浮世絵), Japanese traditional art.
While you have a cup of Italian coffee, you can also enjoy viewing the Japanese traditional art works... like this.
Three Ukiyoe art work graphics are successfully replicated by a Japanese major print-technology company from collections of Museum of Fine Arts, Boston, U.S.A.
* Under the Wave off Kanagawa, from the series Thirty-six Views of Mount Fuji
    by Katsushika Hokusai (「富獄三十六景」神奈川沖浪裏 葛飾北斎)
* Nihonbashi: Morning Scene, from the series Fifty-three Stations of the Tôkaidô Road
    by Ando Hiroshige  (「東海道五十三次」日本橋朝之景 安藤広重)
* Reflective Love, from the series Anthology of Poems: The Love Section
    by Kitagawa Utamaro (「歌撰恋之部」物思恋 喜多川歌麿)
All these works are major iconic works by these Ukiyoe masters in the Edo period. It is also interesting to know a scene of Nihombashi, where the cafe is located, in early 19th century or 200 years ago from the work by Ando Hiroshige.
Cafe name: espressament illy Nihombashi
Address: Nihombashi Fuji bld. 1st floor, 2-5-13 Nihombashi, Chuo-ku, Tokyo
Website in Japanese: http://espressamenteilly.jp
View Larger Map