Upscale French cuisine is actually a food category which we recommend to try in Tokyo, after Japanese meals. Some of you may think WHY French in Japan? But it is true that Tokyo is a city where we can have the highest standard of French cuisine. The quality may be the best outside the origin country, France. We know even a few (or more?) people say that French cuisine in Tokyo is the best in the world.
Let us tell you why French restaurants in Tokyo are so good?...  For decades, a lot of Japanese cooks with ambitious have work experience at upscale French restaurants in France to horn their cooking skills. On the other hand, due to their good hands (dexterity) and diligence, Japanese cooks are very welcomed by French restaurant owners and top chefs. 
Now some of Japanese cooks take important positions in kitchen of upscale French restaurants in France. Again some of them come back to Tokyo and demonstrate their skills acquired in the origin country. People in Tokyo are very eager to taste the best dishes including authentic French cuisine. Restaurants are expected to keep satisfying such guests. As the result, as Michelin Guide's evaluation, Tokyo is one of the best gourmet city in the world and it is not only for Japanese cuisine but also for French and other types of meals. 
Well today's our recommendation Le Bourguignon is also one of such restaurants appreciated by local food lovers as authentic French cuisine in Tokyo.
Le Bourguignon is located in Roppongi and is just a few hundreds meters from Roppongi Hills and Grand Hyatt Tokyo hotel.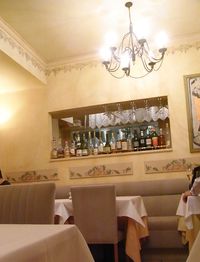 Both the exterior and interior with around 20 seats are so lovely in romantic European style. It looks like a "petite hotel" in a small village of France. 
That makes us escaping from our daily hectic life.
This time, we ordered a full-course dinner at the least expensive price Yen 5500 per person for starter/fish/meat/dessert. 
The quality and ingredients are much exceeded our expectation.
We introduce a few plates from the course dinner. 
Boudin noir (black sausage with blood of pork) with two kinds of apple
Some people, including Japanese, mind the strong flavor from blood sausage. Boudin noir at Le Bourguigon is totally different from others. The black piece never brings such strong wild scent but is cooked in sophisticated style by the skilled chef. We can recommend even to those who usually would not like to take boudin noir. 
Yezo deer in pie with truffle sauce
Classic French style. Normally such expensive ingredients like truffle can not be expected for the least expensive dinner course. Here we can. 
Red pepper pudding with vanilla ice cream
We could never imagine "red pepper" pudding!! It is one of the chef's specialty. Sweet pudding with a bit spicy flavor is interesting and delicate dessert.     
We were really satisfied with the quality, volume and also price of the dinner course, having felt like we were in France not in Japan.
To tell the truth, Michelin Guide has not awarded a start to the restaurant for their guidbook 2013 version. But we are sure that Le Bourguignon is still one of the most recommendable French restaurant in Tokyo. It has good value for the authentic French cuisine.
**************** UPDATE  December 2013 ****************
Michelin Guide has awaeded 1-star to Le Bourguignon for 2014 version!!
**************************************************************
Restaurant name: Le Bourguignon
Address:
3-3-1 Nishi-Azabu, Minato-ku, Tokyo