TKG is a relatively new abbreviation of a Japanese word. Some Japanese people maybe still don't know it.
TKG represents Takago Kake Gohan, rice with raw egg. It is very simple food, cooked Japanese rice (Gohan) topped with a broken uncooked egg (Tamago Kake).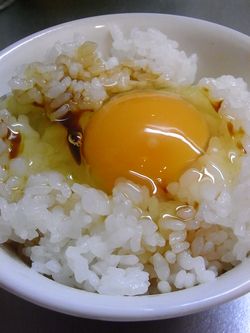 In many places out of Japan, people won't take a raw egg. In Japan, we often eat raw eggs. The two most popular ways to take an raw egg is with rice as above and as dipping sauce for Skiyaki (beef hot pot). You might alerady experience either way in Japan.
Because of the food culture to have a raw egg, in Japan, egg producers, food distributors and retailers etc all care the preserving condition of eggs enough cool in fridge and keep appropriate hygiene standars for taking without cooking. As long as eggs are appropriately treated in Japan, they are edible raw. So don't worry!! Eggs served in Japan are not same with ones in your country, which are considered taking after cooked.
TKG or Tamago Kake Gohan, is one of the most popular ways to have rice in Japan.
It is often served for breakfast at Ryokan and hotels as well as as a part of teishoku (定食, set menu) at casual local restaurants across Japan.
The cooking way is very simple and usually made by a diner.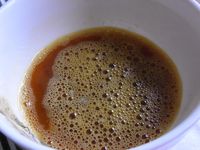 1. Break egg shell and pour whole egg to a small bowl.
2. Add one or two spoons of soy sauce to it.
3. Mix them well and pour the liquid to rice in another bowl.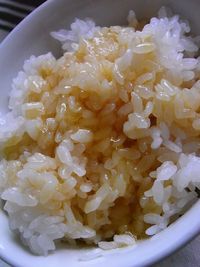 An alternative way to prepare Tamago Kake Gohan is to put an egg, soy sauce on a rice bowl directly and mix them all. A short video on below link shows the process. 
http://www.ajinomoto.co.jp/aji/egg/generator/#

Just a remark for you, spice like salt is added after soy sauce on the movie. It is "Ajinomoto", artificial seasoning or a main product of the site operator. Ignore that as it is not necessary actually.
For a last few years, the simplest cooking food, Tamago Kake Gohan has been looked backed and re-evaluated by younger generations. Then the abbreviation TKG was born. Some people select fine quality eggs to prepare the best TKG. Soy sauce developped especially for Tamago Kake Gohan can be seen at some selected grocery stores nowadays.
As a series of TKG or Tamago Kake Gohan, we will introduce modern ways to enjoy it with additional condiments and a restaurant where you can find a nice bowl of TKG!
Don't be afraid and try Tamago Kake Gohan if you can find it at your accommodations or restaurant you visited in Japan!!